Force of Nature: Thanking Patricia Wilson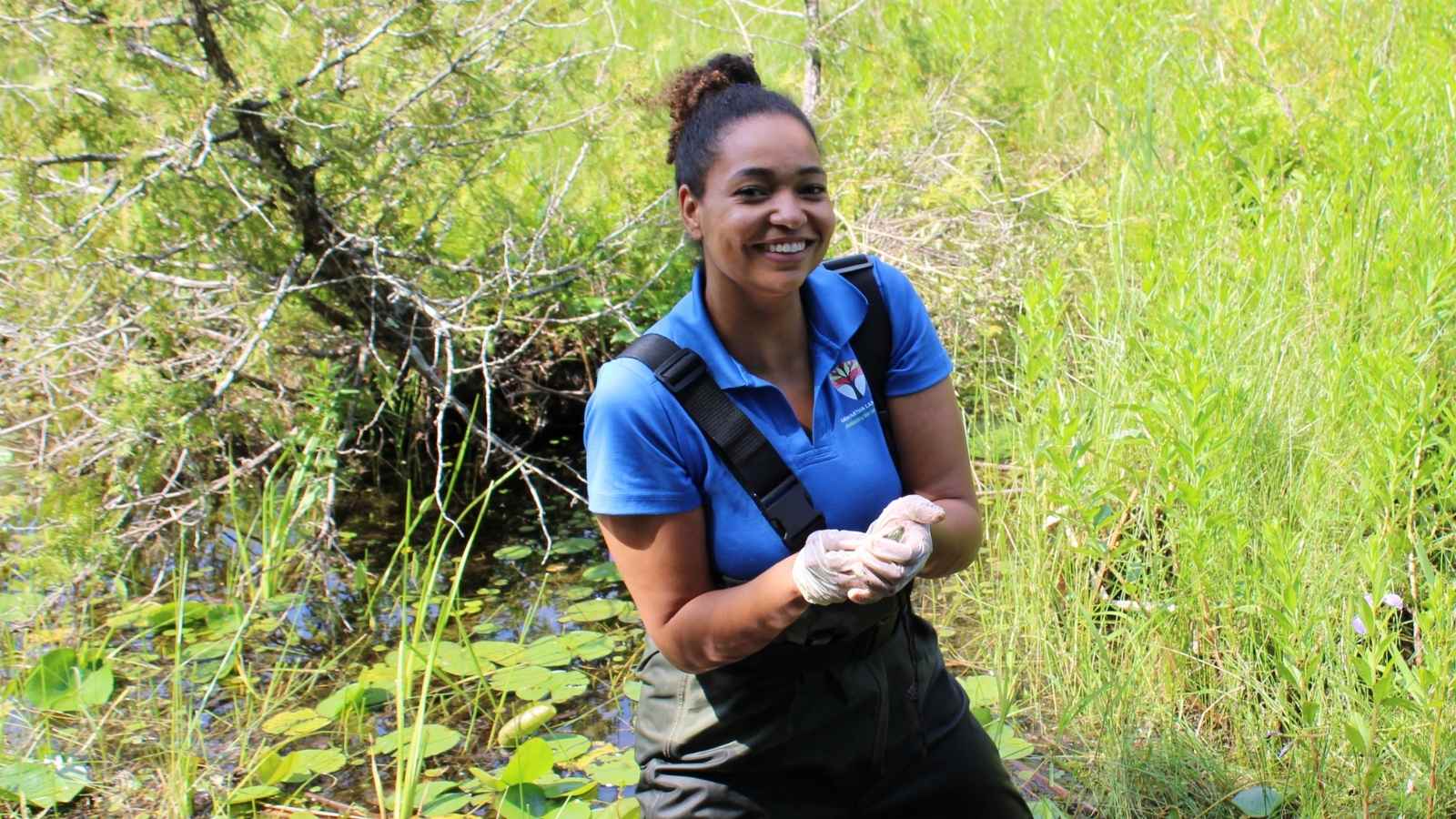 After five years of creating community around conservation, Patricia Wilson is leaving Kawartha Land Trust for a new challenge
Patricia Wilson recalls the exact moment she knew that she wanted to be involved with Kawartha Land Trust (KLT). It was at a tree-planting event at KLT's Dance Nature Sanctuary in Lakefield, Ontario, in 2017.
"It was my first time planting trees for a restoration project and it was so exciting," said Patricia. "I thought that protecting land and then working to steward it through restoration work was a unique way to protect the environment and I wanted to be a part of that."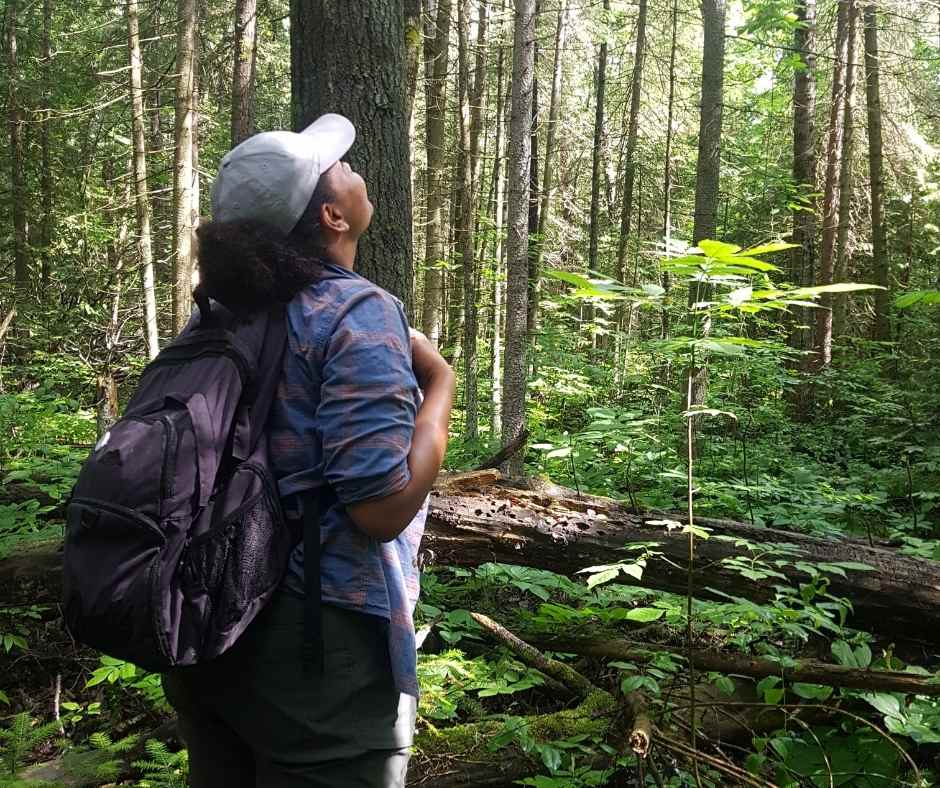 It seems only fitting that in the final months of Patricia's tenure as Community Conservation Coordinator with Kawartha Land Trust, she helped organize a special rapid reforestation event at Dance Nature Sanctuary. KLT staff and an amazing team of volunteers came together in May to plant over 1,000 trees, plants and shrubs using the Miyawaki Method, an experimental tree-planting technique. During her time with Kawartha Land Trust, first as a volunteer and then staff member, Patricia affected deep change and built community around conservation in the Kawarthas.
"Patricia has been a big part of Kawartha Land Trust's growth and development during her time here," said Executive Director, John Kintare. "Since my first days with KLT, Patricia's dedication and enthusiasm and ability to connect people with the work we do to protect land in the Kawarthas have made an impact on me."
Passionate about the environment, Patricia holds a BSc in Biology with a Specialization in Conservation Biology from Trent University and a diploma in Ecosystem Management from Fleming College. Her work in the sector extends beyond her role at Kawartha Land Trust – a board member of the Ontario Land Trust Alliance (OLTA) and the Green Communities Foundation (GCF), she was the recipient of OLTA's Emerging Land Trust Leader Award in 2020.

Patricia feels that land conservation is critical in protecting our natural environment and preserving space for wildlife to thrive.
"It is also a key piece in adapting to our changing climate," said Patricia. "And community engagement is extremely important in getting people excited about conservation and involved in this important work…it's a valuable tool not only to educate but to bring people together, to gain different perspectives and to generate new solutions to environmental issues."
A strong advocate for racialized voices in the outdoors, Patricia founded Diverse Nature Collective (DNC) in 2021. DNC is a BIPOC-led organization dedicated to empowering and mobilizing diverse voices in the environmental sector. Through DNC, Patricia has partnered with a number of organizations, including Let's Hike T.O., the Rock and Rope Climbing Centre, and Kawartha Land Trust, to invite people out onto the land.  
In mid-September, Patricia will take on her next role as the Community Advocate and Outreach Coordinator at Community Race Relations Committee of Peterborough (CRRC), a non-profit community-based organization committed to encouraging and promoting anti-racism and equitable race and community relations throughout Peterborough/Nogojiwanong. She will also continue to grow and expand Diverse Nature Collective.
"Working with Kawartha Land Trust has been an incredible experience," said Patricia. "I feel like I've grown up here — I started with KLT as a volunteer and quickly fell in love with the amazing work that we do and the fantastic people that make it all happen…the legacy of KLT that our volunteers and staff, both past and present, have built is truly incredible and I'm so glad I got to be a part of it."
When asked what some of her favourite moments at Kawartha Land Trust have been, Patricia noted there are many — from buggy, hot field days and planning a multi-site restoration project to organizing fun events and celebrating KLT's successes with volunteers and supporters.
Some of the efforts she is most proud of have centred around Kawartha Land Trust's efforts to work with Indigenous communities and its work towards becoming a more diverse and inclusive organization.
"From planning and organizing our first Indigenous-led event in 2018, creating KLT's #InformedFridays social media posts, co-organizing an annual women's backcountry skills clinic with other local local organizations, and leading our first Black History Month hike this year, the list goes on," said Patricia. "I'm so proud of all the work that the team and I have undertaken in order to reduce barriers to accessing nature and working towards making KLT a truly inclusive space for everyone."
Throughout her time at Kawartha Land Trust, Patricia has made a considerable impact and her work will continue to resonate throughout our community and beyond.

From everyone at Kawartha Land Trust, we wish Patricia the very best and offer our thanks for her dedication in protecting the land she loves in the Kawarthas.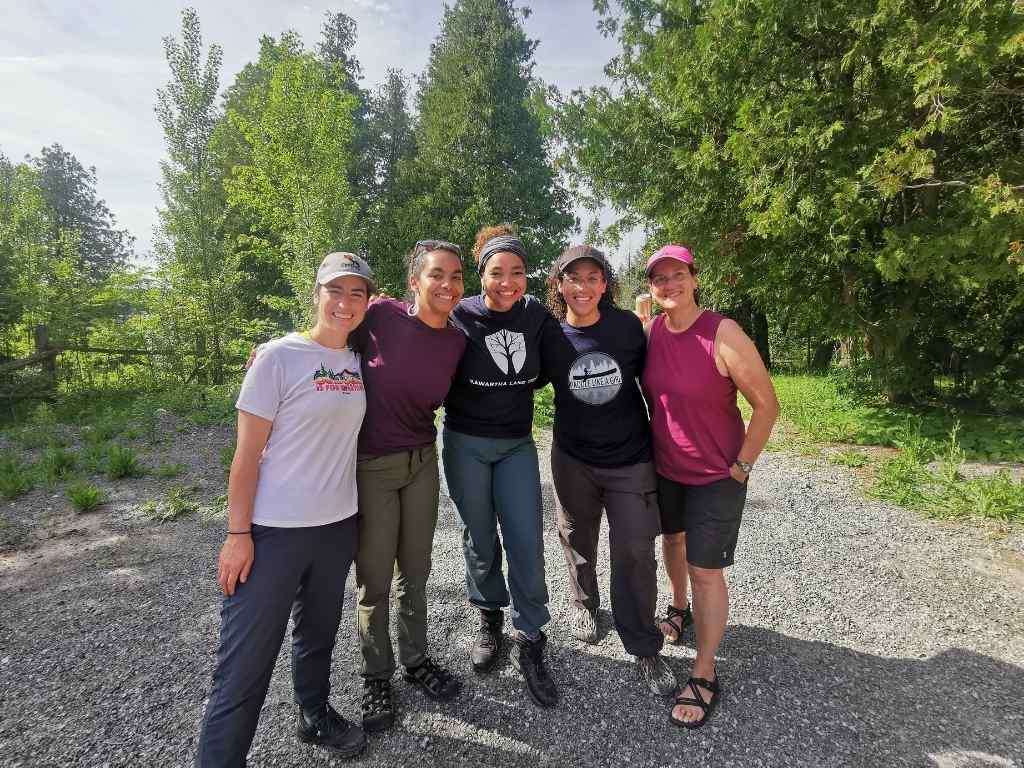 Article published on September 8, 2022. Main photo: Patricia Wilson holding a Map Turtle hatchling about to be released on a Kawartha Land Trust-protected property as part of a KLT and Ontario Turtle Conservation Centre (OTCC) partnership.