On June 11, Kawartha Land Trust (KLT), in partnership with Paddle Like A Girl and Wild Rock, held our second annual Women's Backcountry Skills Clinic.
This year, the event was held at KLT's Big (Boyd/Chiminis) Island in Pigeon Lake. The island, at over 1,000 acres, is the largest undeveloped island in the Kawarthas and features forests, wetlands, meadows, and an abundance of wildlife.
Over 30 women were in attendance — some travelling from as far as Hamilton and Orillia — to learn backcountry basics skills from local experts.
All aspects of the workshop were women-focused. The event was led by women for women and even the service providers, including catering and shuttle services, were local businesses run by women.
Attendees spent half of the day learning paddling tips and skills, including how to lift and carry a canoe solo and paddling techniques.
The second half of the day was spent learning backcountry camping skills, including backwoods safety, water purification, proper gear and sizing, hygiene, knots and more.

KLT spoke with some of the amazing facilitators of the event to learn more about the event.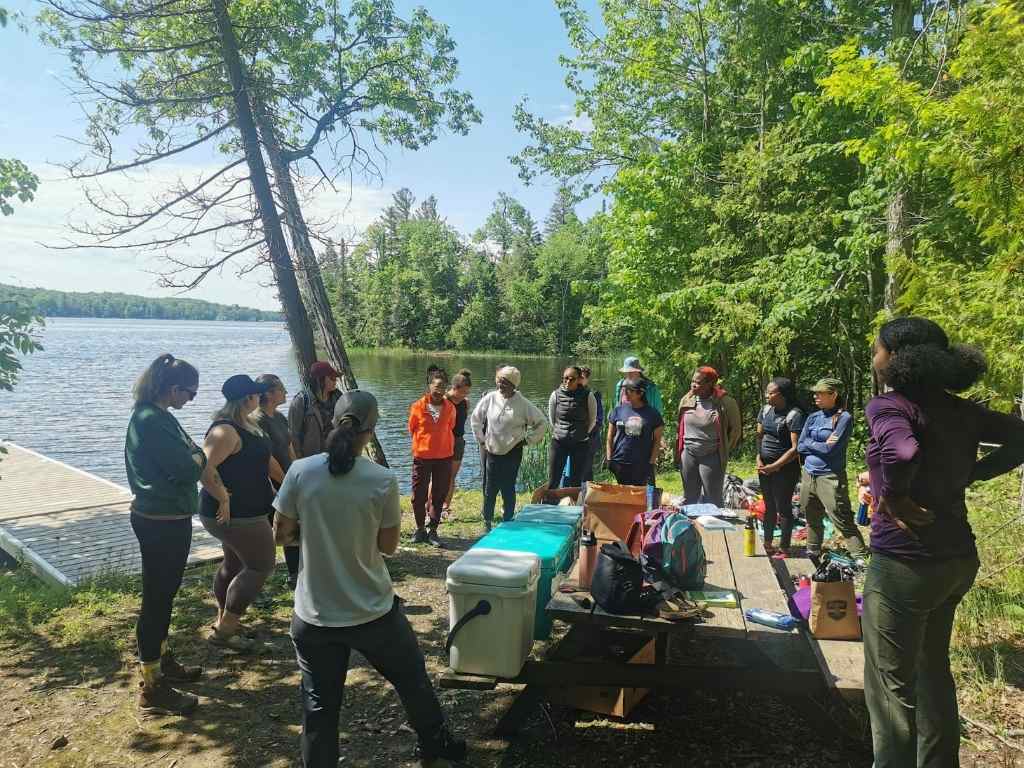 ---
Patricia Wilson, Community Conservation Coordinator
Kawartha Land Trust & Founder, Diverse Nature Collective
Why was it important for Kawartha Land Trust to partner on this event? Why is it important to bring people out to connect with the land?

This is the second year that Kawartha Land Trust has partnered with our friends at Wild Rock and Paddle Like a Girl to put on this women-led and women-focused event.

Back in 2020, before the pandemic had started, Tori Silvera, Sarah Robbins and myself met up to brainstorm some collaborative events that Wild Rock and KLT could host together…We dreamed up this women-led clinic and brought in Tori Baird and it took off from there!

It's been amazing to see how well received this event has been — we reached attendance capacity both years. Women travelled to the Kawarthas from as far as Hamilton, Orillia, and Toronto to learn with us.
For me, being able to offer skills clinics on KLT-protected lands is important because we're giving people confidence to be in nature, we're connecting them with the land, and building a greater appreciation for nature through highlighting the importance of protecting it.

With these workshops we are providing a safe space for women to feel confident and build their skills in a judgment free environment.
---
Tori Baird, Founder
Paddle Like a Girl

Why did you start Paddle Like a Girl?

Before starting Paddle Like a Girl, I had been paddling for about eight years but I always went out with my husband and he was the one to do most of the planning, sterning, and portaging of the canoe, etc.

It wasn't until 2019 that I took the opportunity to head out without him on a trip with a friend. We each soloed our own canoes and were completely self-sufficient, sharing only a tarp.

After completing this five-day trip through the backcountry of Algonquin Park without having my husband as a crutch, I felt extremely empowered and restored, like I could handle the stresses of everyday life with ease.

The feeling was so overwhelming that I felt the need to share it with other women so I came up with the idea to teach introductory workshops for women and called it Paddle Like a Girl!

Over the past two years, my workshops have become more than just teaching a new skill but about building confidence, forming community and creating space for women in the outdoors.
---
Shari Hughes, Assistant
Paddle Like a Girl
What was your favourite moment of the day?
The best part of the weekend was the look on each womxn's face when they were successful with a lift, a flip, or a paddle stroke. It was a reflection of the empowerment experienced throughout the day.
---
Sarah Robbins, Staff
Wild Rock
What is your favourite backcountry skill to teach?

I can't think of a single skill that I enjoy teaching the most; all skills are fun to teach for me. What I enjoy most is learning about the tricks and tips the other teachers and participants have learned through their own camping experiences. For example, Alecia taught a two-point bear hang system that blew me away! Now I no longer have to struggle pulling up a heavy bag of food in the backcountry.
---
Alecia Golding, Staff
Wild Rock

Why is teaching backcountry skills for women important?
Teaching these backcountry skills to women is important for me because the outdoor industry has a long history of inaccessibility and gatekeeping. Gaining these backcountry skills can be very intimidating and it sometimes doesn't seem easy to know where to start.

I believe adventuring in the outdoors is the truest test of your mental, physical, and emotional strength. If the only thing standing in a women's way of these experiences are the backcountry skills then it makes my heart full that I can help more women get outside!
---
Tori Silvera, General Manager
Wild Rock
Why was it important for Wild Rock to partner on this event?

Wild Rock's mission has always been to empower people to go out and play, and the foundation of outdoor adventure is feeling safe and self-sufficient — and having a community to learn with!

We're just so stoked about how many women came from far and wide to be a part of this, and honoured to have played a small part in bringing together the group of brilliant and capable leaders who shared their knowledge.

The outdoors community still has a lot of room to grow to make the backcountry welcoming and safe for everyone, and Wild Rock will continue to serve our community and be the support crew to make that happen.

Can't wait for the 3rd annual clinic in 2023!
---
To attend next year's Third Annual Women's Backcountry Skills Basics event, sign up for Kawartha Land Trust's e-newsletter.
Some interviews have been edited for length and clarity.
(Photos: Patricia Wilson/KLT)