Contact Us
Mailing Address:
Kawartha Land Trust
P.O. Box 2338
Peterborough ON, K9J 7Y8
Office Address:
The KLT office is located at
The Mount Community Centre
1545 Monaghan Road
Peterborough, ON, K9J 5N3
Charitable Registration Number: 879086718RR0001
KLT Staff Team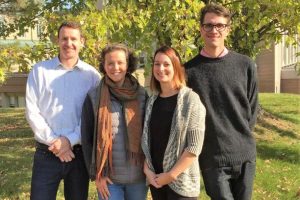 Mike Hendren, Anna Lee, Tara King, Thom Unrau
Tara King, Development Manager
Tara King is the Development Manager at Kawartha Land Trust. Tara has over ten years of experience in marketing, communications and development. She is a strategic thinker, and has shown a strong ability to build relationships and partnerships. She brings a diverse slate of experience having worked in the private, public and nonprofits sectors. She has also taught Marketing Communications at Fleming College. Tara's educational background includes a Honors Degree in Business Administration from Trent University and an advanced Diploma in Marketing from Fleming College.
Tara describes some of her favorite times as ones spent outside; hiking, paddling and exploring. She is passionate about sharing her love for the outdoors and living an active lifestyle with her family.
Email: tking@kawarthalandtrust.org
Anna Lee, Operations Manager
Anna Lee is the Operations Manager. She holds a B.Sc. in Environmental Science and Biology from Trent University.  Anna's early experiences involved working in the field of Outdoor Experiential Education, in centres in BC and Ontario.  She has since pursued a number of interests and professional development courses in accessibility, fundraising, grant-writing, accounting and evaluation. Most recently, Anna was the Project Manager for the Council for Persons with Disabilities, has volunteered with a number of organizations including Camp Kawartha and on the Board of the New Canadian Center and the Youth Emergency Shelter.
Anna
 lives with her family on the Indian River near Warsaw where she enjoys paddling, hiking and exploring natural spaces on a regular basis.
Email: alee@kawarthalandtrust.org
Thom Unrau, Land Stewardship Manager
Thom Unrau is as our Land Stewardship Manager at KLT. Thom has experience working with the Nature Conservancy of Canada in one of their priority natural areas in King City and has participated in a wide range of conservation work spanning from Northern Ontario to South Africa. His areas of expertise include invasive plant management, trail construction and nature interpretation. Before joining KLT full time, Thom worked for us part-time during the summer of 2016 mainly on our newest and biggest protected property, Big (Boyd/Chiminis) Island, he also volunteered with KLT and several of our key partner organizations.
His educational background in Ecological Restoration (Fleming College) and Anthropology (Concordia U.) supports Thom's curious yet thorough approach to his work.
Email: tunrau@kawarthalandtrust.org
Mike Hendren, Executive Director
Mike Hendren has a keen interest in community, business and organizational development. He grew up in a family business environment and completed a Business Administration Degree from Trent University; a Masters in Urban and Regional Planning from Queen's University; and is a registered professional planner. His volunteer, academic and work experiences span all three sectors and blend his interests in business and community development with a focus on real estate, urban planning, fundraising and conservation.
Mike joined Kawartha Land Trust as Executive Director in late 2009. During his tenure he has led the development of the organization, its mission and structure. Kawartha Land Trust is now recognized as a community leader with strong and diverse resources, a committed team of volunteers, partners and core staff, as well as a proven track record in achieving collaborative community and capital projects in excess of $5M.
Mike recently completed two terms as Chair of the Board of the Ontario Land Trust Alliance and while he sometimes dabbles in music, Mike spends much of his free time in the outdoors, primarily in his own backyard of the Kawarthas.