Contact Us
Mailing Address:
Kawartha Land Trust
P.O. Box 2338
Peterborough ON, K9J 7Y8
Office Address:
The KLT office is located at
The Mount Community Centre
1545 Monaghan Road
Peterborough, ON, K9J 5N3
Charitable Registration Number: 879086718RR0001
KLT Staff Team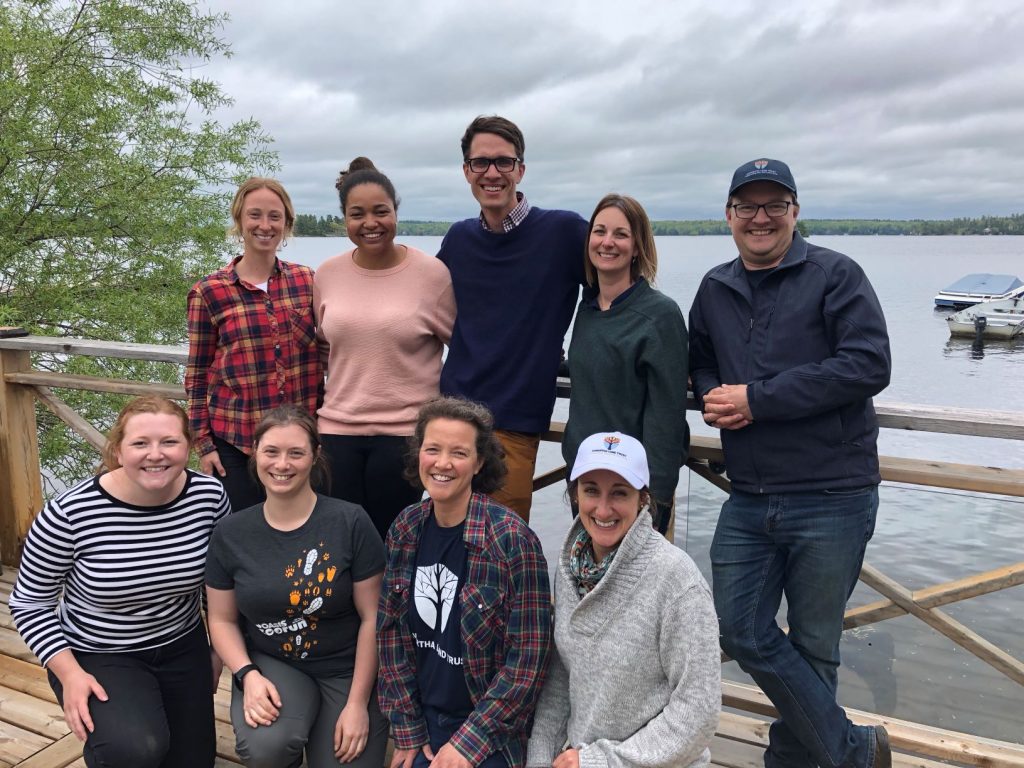 KLT Staff (Image from May 2019) From Left to Right:
Back: Camille Cooper, Patricia Wilson Thom Unrau, Tara King, John Kintare
Front: Rachel Rutherford. Tineasha Brenot, Anna Lee, Shivaan Burke
John Kintare, Executive Director
John Kintare is the new Executive Director of Kawartha Land Trust as of February 2019. John has over a decade of non-profit management experience from across the country and brings a broad spectrum of experiences from organizations and communities large and small. A permaculture enthusiast, John is dedicated to integrating elements of complex systems to provide benefit both to the ecosystem, and the humans who rely on it. John holds an Honours Degree in Psychology from the University of Waterloo and is a devoted lifelong learner.
John lives with his family in Bobcaygeon and is a recent transplant to the area having been attracted by the beautiful landscape and the chance to renew his kayaking and hiking muscles.
Learn more about John here!
Email: jkintare@kawarthalandtrust.org
Thom Unrau, Land Stewardship Manager
Thom Unrau is as our Land Stewardship Manager at KLT. Thom has experience working with the Nature Conservancy of Canada in one of their priority natural areas in King City and has participated in a wide range of conservation work spanning from Northern Ontario to South Africa. His areas of expertise include invasive plant management, trail construction and nature interpretation. Before joining KLT full time, Thom worked for us part-time during the summer of 2016 mainly on our newest and biggest protected property, Big (Boyd/Chiminis) Island, he also volunteered with KLT and several of our key partner organizations.
His educational background in Ecological Restoration (Fleming College) and Anthropology (Concordia U.) supports Thom's curious yet thorough approach to his work.
Email: tunrau@kawarthalandtrust.org
Anna Lee, Operations Manager
Anna Lee is the Operations Manager. She holds a B.Sc. in Environmental Science and Biology from Trent University.  Anna's early experiences involved working in the field of Outdoor Experiential Education, in centres in BC and Ontario.  She has since pursued a number of interests and professional development courses in accessibility, fundraising, grant-writing, accounting and evaluation. Most recently, Anna was the Project Manager for the Council for Persons with Disabilities, has volunteered with a number of organizations including Camp Kawartha and on the Board of the New Canadian Center and the Youth Emergency Shelter.
Anna
 lives with her family on the Indian River near Warsaw where she enjoys paddling, hiking and exploring natural spaces on a regular basis.
Email: alee@kawarthalandtrust.org
Tasmin Rajotte, Development Manager
Tasmin Rajotte is our Development Manager. Tasmin has over 22 years experience in the charitable sector in administration, fundraising, project implementation and management, research and writing and diplomatic work at the international level. She's worked in the areas of sustainable agriculture, food security, environment, community economic development, and criminal justice. Prior to KLT, she worked for the service arm of Canadian Quakers (the Canadian Friends Service Committee). She has a B.Sc. in Agriculture from the University of Guelph, a Masters in Environmental Studies from York University, and Native Species and Natural Process Professional Specialization Certificate (Ecological Restoration) from University of Victoria. New to the area, she is discovering the Kawartha's through trials and volunteering for community initiatives.
Learn more about Tasmin here!
Email: trajotte@kawarthalandtrust.org
Sé Keohane, Financial Administrator
Sé is only in the KLT office once per week. For financial inquiries please email info@kawarthalandtrust.org
Patricia Wilson, Community Conservation Coordinator
Patricia Wilson is our Community Conservation Coordinator at Kawartha Land Trust. She is an enthusiastic and detail-oriented team member who is passionate about land protection and sharing the importance of conservation with the public. Her area of expertise includes invasive species management, restoration & event coordination. You may recognize her name as she has worked with us over the past year in a variety of roles including stewardship technician and administrative support and prior to this she has been a dedicated KLT volunteer for 3 years. She holds a BSc. in Biology and a Specialization in Conservation Biology from Trent University as well as a diploma in Ecosystem Management from Fleming College.
Patricia has a keen sense of adventure and loves to explore new places! She also enjoys hiking, reading and torturing herself by doing obstacle course races such as Tough Mudder & Spartan Race.
Email: pwilson@kawarthalandtrust.org
Rachel Rutherford, Community Engagement and Marketing Assistant
Rachel is the Community Engagement and Marketing Assistant with Kawartha Land Trust. She is a recent graduate from Trent University where she received an BA in Media Studies. Previously Rachel worked for the Kawartha Chamber of Commerce and Tourism as the Tourism and Marketing Assistant and prior to that she worked for the Ministry of Community and Social Services with the Ontario Disability Support Program. Rachel brings a knowledge and passion for social media and marketing that will be an asset as we continue to grow and expand our impact.
Rachel was born and raised in Peterborough County and loves to explore the outdoors especially while hiking with her dogs, paddling in the summer and skiing in the winter!
Email: rrutherford@kawarthalandtrust.org