Ron Awde (L) and Cheryl Lewis (R)
KLT's annual Thanks.giving event was held on October 7th virtually over zoom. It was a very special night of celebration and honouring KLT volunteers and donors!
KLT relies on the support and dedication of volunteers and is grateful for their gifts of time, skills, and knowledge.
At the event, KLT recognized two volunteers who have been donating their time and talents to protecting the land you love for ten years, Ron Awde and Cheryl Lewis.
Ron Awde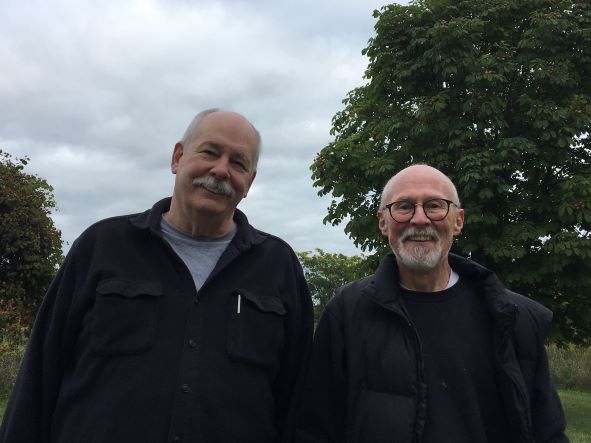 Ron first joined KLT as a director in 2011. He served as the Chair of the KLT Board from 2013 – 2014. Ron has been an active member of KLT's Development Committee since stepping down as a Director in 2014.
Ron and his partner Robert Ertel have a Conservation Easement Agreement with KLT on their Sheidow Farm property. This property, protected in 2017 is part of a large corridor of protected lands in Bethany Hills.
Ron has supported KLT's work in many ways over the years. He has drafted fundraising policies and supported community-based fundraising initiatives. Ron has been a huge supporter and driver of the Partners in Conservation work in Fleetwood Creek and is always willing to share his knowledge for the benefit of KLT.
Cheryl Lewis
Cheryl has been a volunteer with KLT since 2011 when she joined as a Director. Over the past 10 years, Cheryl served the Board as Vice-Chair from 2013-2014, and as Chair from 2014-2017. Cheryl stepped down from the Board at the beginning of 2020. She is still very involved with KLT, currently in a second term as a Trustee.
Cheryl has been a part of many achievements during her involvement with KLT over the years. Her involvements include chairing the KLT Securement Committee, leading the campaign to secure Big Island, implementing the Trustee model, working to establish best practices in board governance and helping to navigate organizational changes, challenges and successes.
Her past time on the board, dedication as a volunteer and all-around champion of KLT has made a huge impact.
Posted October 20, 2021.