In November, Kawartha Land Trust held its annual "Thanks.Giving" event to thank and celebrate its volunteers. Held at KLT's Dance Nature Sanctuary, which holds the distinction as KLT's (then Kawartha Heritage Conservancy) first protected property, volunteers walked the trails, visited the rapid reforestation plot, and enjoyed some conversation beside the fire.
To all of our volunteers — we're incredibly grateful for the time and skills you commit to protecting the land you love. As long-time volunteer Marnie Clement wrote in a piece this year, "without volunteers, there would be no KLT." The work of KLT's community of volunteers ensures the organization's mission to protect land in the Kawarthas is advanced every single year in amazing ways.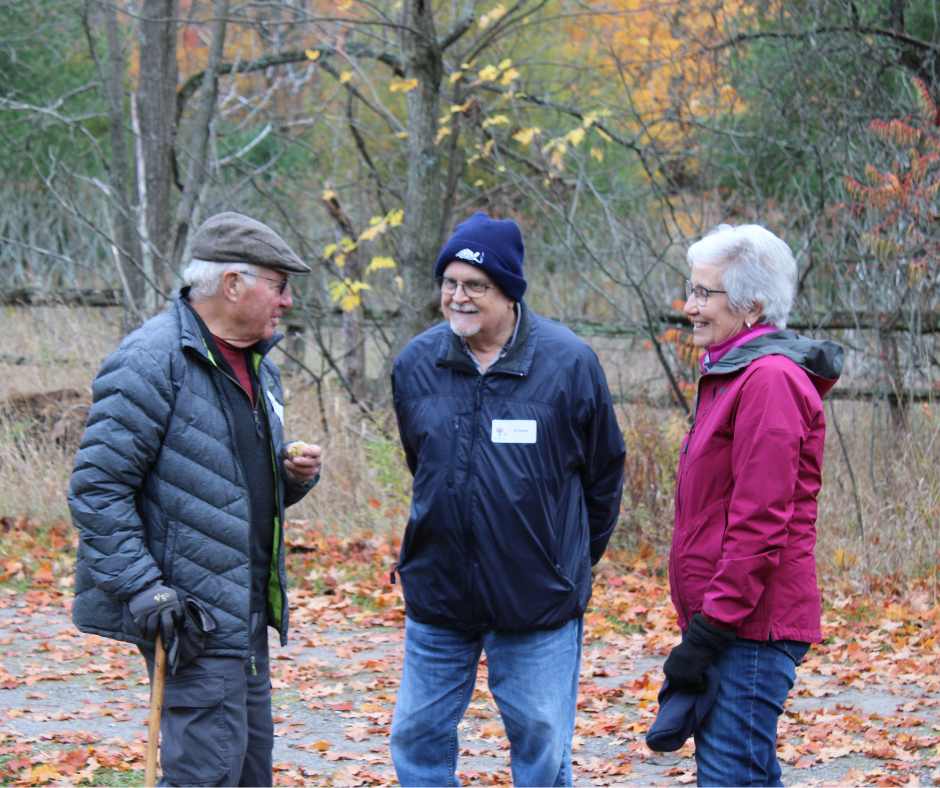 We would also like to thank the teams of volunteers who came out to help clear trails affected by the May 21, 2022, derecho. Your dedicated work ensured that KLT's public access trails were reopened as quickly as possible after the devastating storm.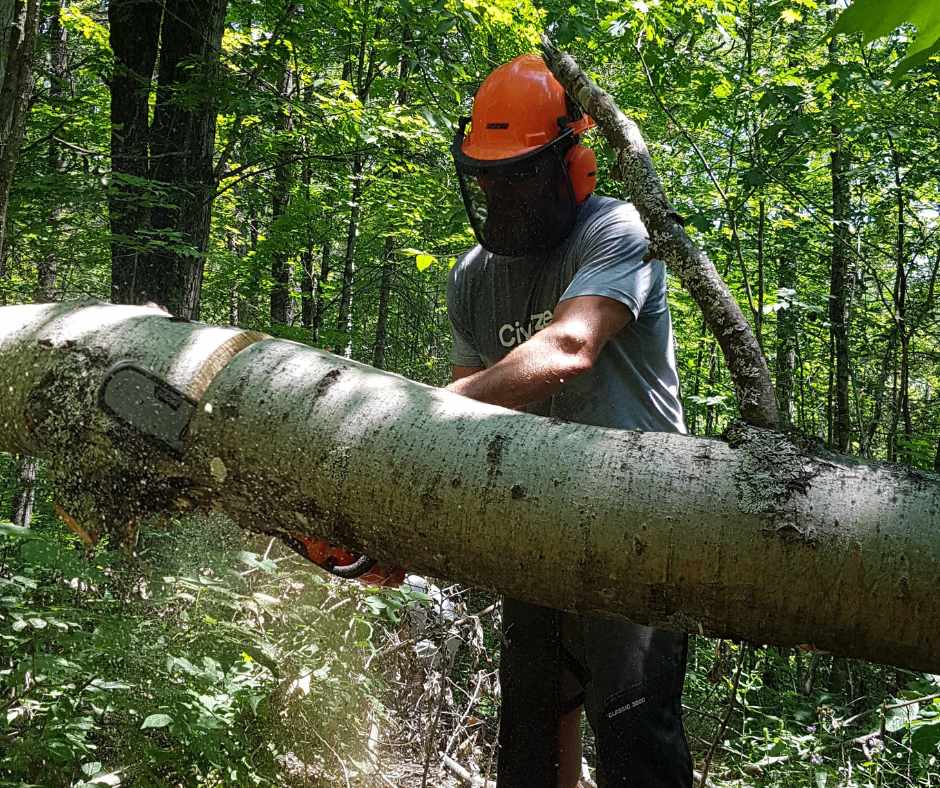 "When I first started working with KLT, what stood out most for me, perhaps surprisingly, was not the number of acres KLT protected, but rather the calibre and warmth of the volunteers who work tirelessly to facilitate the protection and stewardship of the land we love," said Anna Lee, KLT Operations Manager.

"While the roles volunteers hold within KLT vary from stewardship field work, to working on committees or serving as a Director, to making phone calls, writing content, and so much more, there is a common thread amongst our volunteers — a deep-seated passion for conservation and the belief that their work with KLT truly has an impact on the landscape and it does. Without our volunteers, we really could not accomplish the important work that needs to be done, and for that I am truly grateful."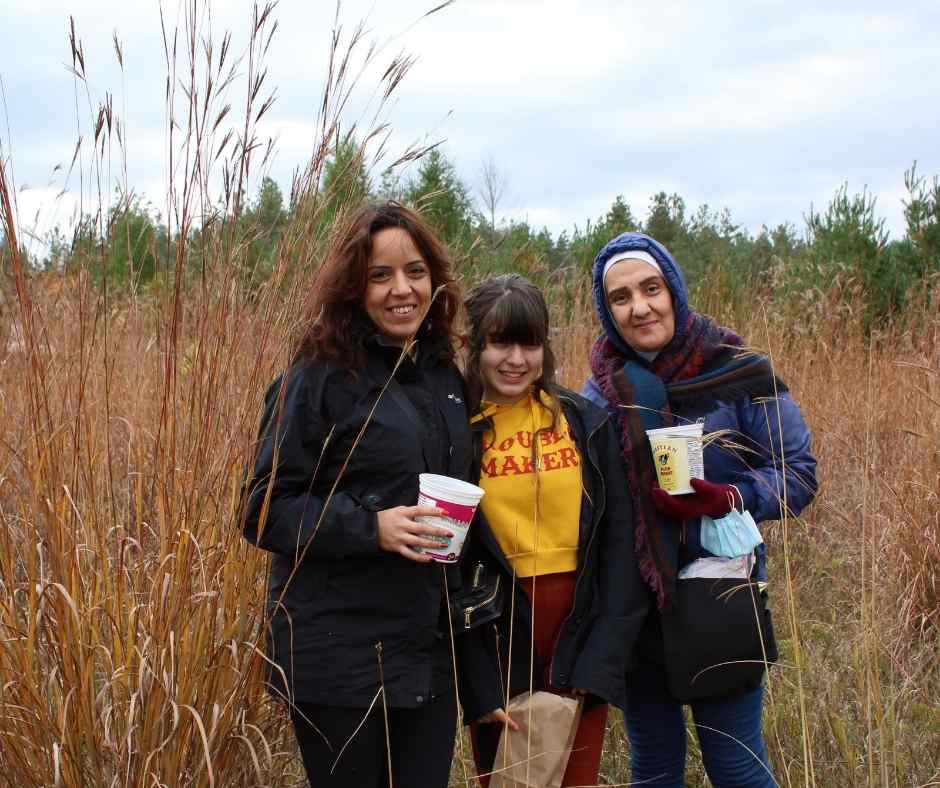 If you're interested in volunteering with KLT in 2023 to make a difference on the landscape and incredible diversity of life it supports, please email us at [email protected] or sign up for our e-newsletter.
Celebrating Evan Thomas' Decade of Volunteering
Having a lifelong love of the outdoors, in 2012, Evan was looking for an opportunity to volunteer with a local conservation organization where he could participate in some hands-on field activities, along with some writing and committee work.

"As an environmental consultant, following a career in provincial fish and wildlife management and policy development, I wanted to regain a more practical connection with conservation activities," Evan said. "After speaking with [then] KLT Board Chair, Cheryl Lewis, and Executive Director, Mike Hendren, I knew I had found a great fit."
Evan immediately became involved in stewarding and caring for KLT's Ingleton-Wells property in North Kawartha as well as chairing the Stewardship Committee.

"Overall, I found this to be a highly rewarding learning experience that included working with incredibly knowledgeable and enthusiastic staff and volunteers," Evan said.

Through his work stewarding KLT's Ingleton-Wells property, he carried out a number of projects that helped to protect species at risk, control invasive species, create hiking trails, and connect people with nature. It also afforded him the opportunity to meet new volunteers and property donors like the Ingleton and Wells families.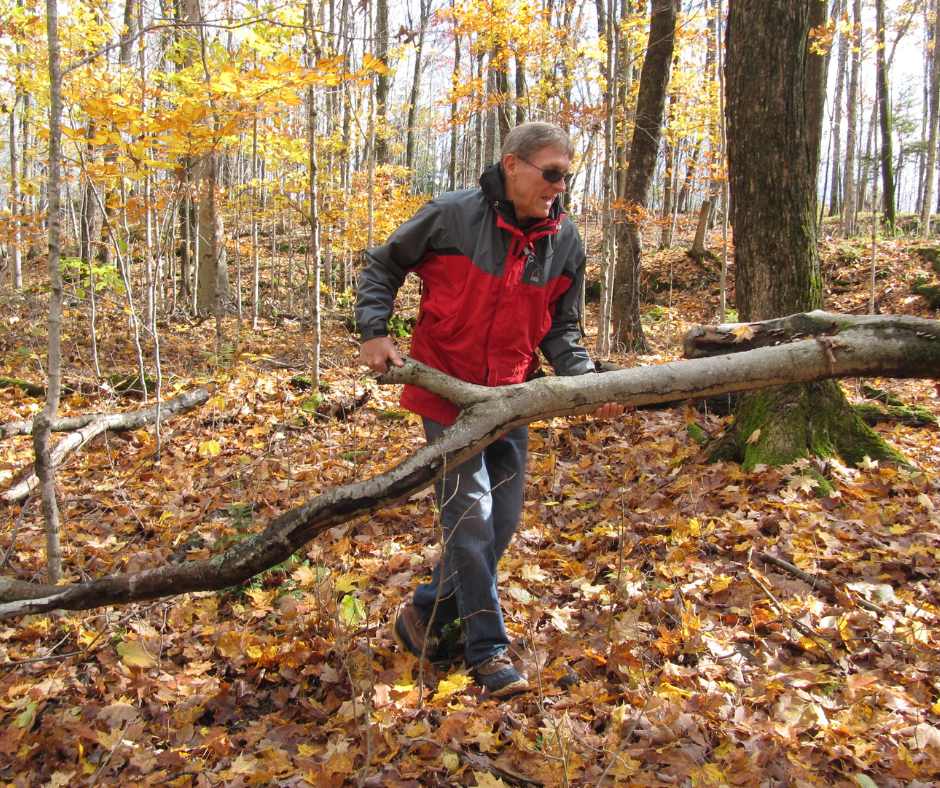 When asked what his role as the Ingleton-Wells long-time lead steward meant to him, Evan noted that it has been a rewarding experience.

"Since it involved regular visits throughout the year, I gained a unique appreciation for the seasonal changes that occur in these natural areas and the diverse species that live there. The devastating impacts that drought, storms, insects, diseases, and invasive species can have on our natural areas also became apparent," said Evan.

"As a volunteer, you can, fortunately, learn about and apply new management approaches to help reduce these impacts. It has also been very encouraging to see the increased use of our trails as public interest in nature and hiking has grown over recent years — along with their recognized social and health benefits."

Evan's work on various KLT committees like the Stewardship Committee provided him with an additional opportunity to work with others to contribute to the overall direction and progress of the organization. Now, as a Trustee, Evan has the opportunity to sit on working groups and share insights, strategic directions, and overall priorities with other community members.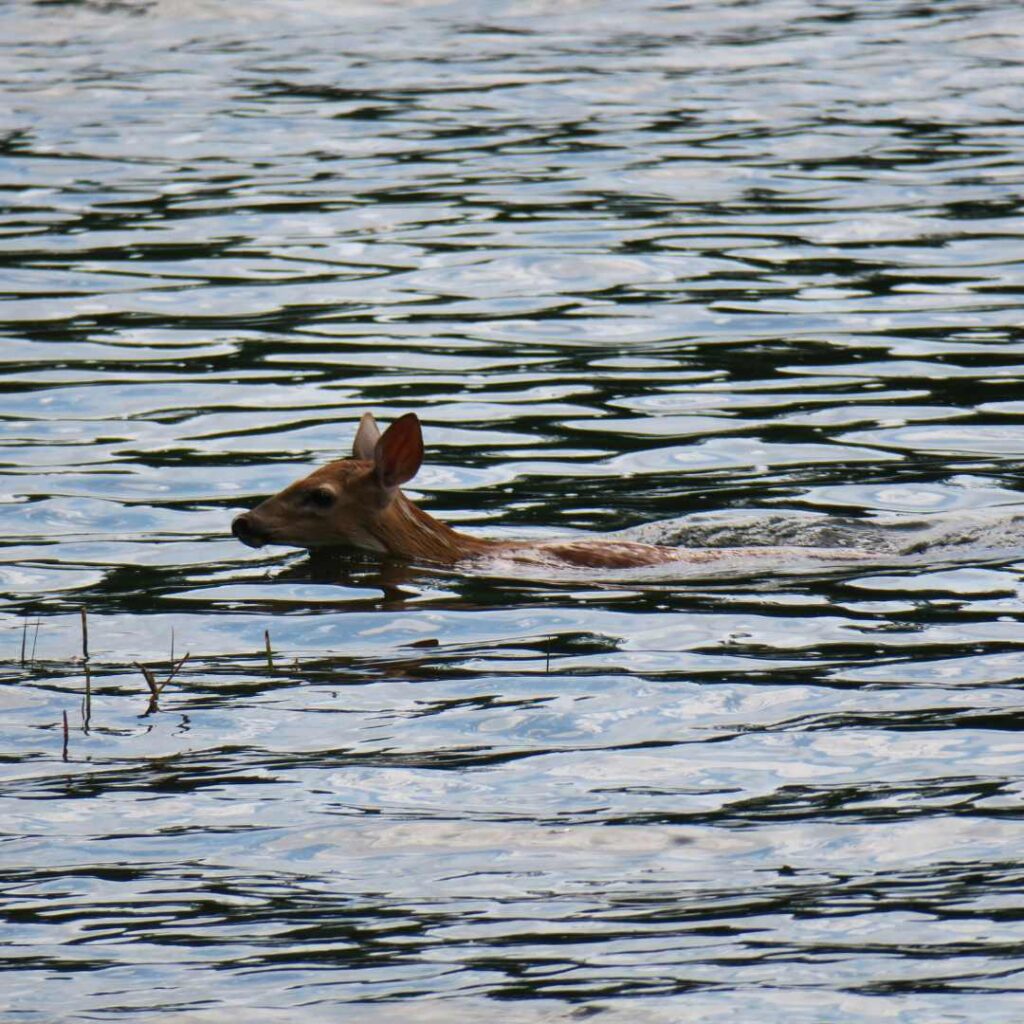 He notes that he continues to volunteer with KLT because he believes in the importance of the mission of protecting and conserving our natural lands for the future and KLT continues to be successful in this endeavour.
In terms of offering advice to KLT volunteers just starting out or those considering volunteering, he offered that if you have a passion for nature, you can play a meaningful role at KLT.
"Just start small with one project, such as collecting tallgrass prairie seeds, pulling Garlic Mustard, or trimming hiking trails for a few hours," Evan said. "The feeling of contribution is incredible, and you may find it is a life-changing experience."
When asked if there is one thing Evan would like people to know about KLT, he relayed the following:

"Given the many challenges we now face in responding to climate change, loss of species diversity, and the ever-decreasing number of areas that are left for people to explore the natural world, KLT serves as a local champion in protecting and conserving natural lands in the Kawarthas for the overall benefit of the community."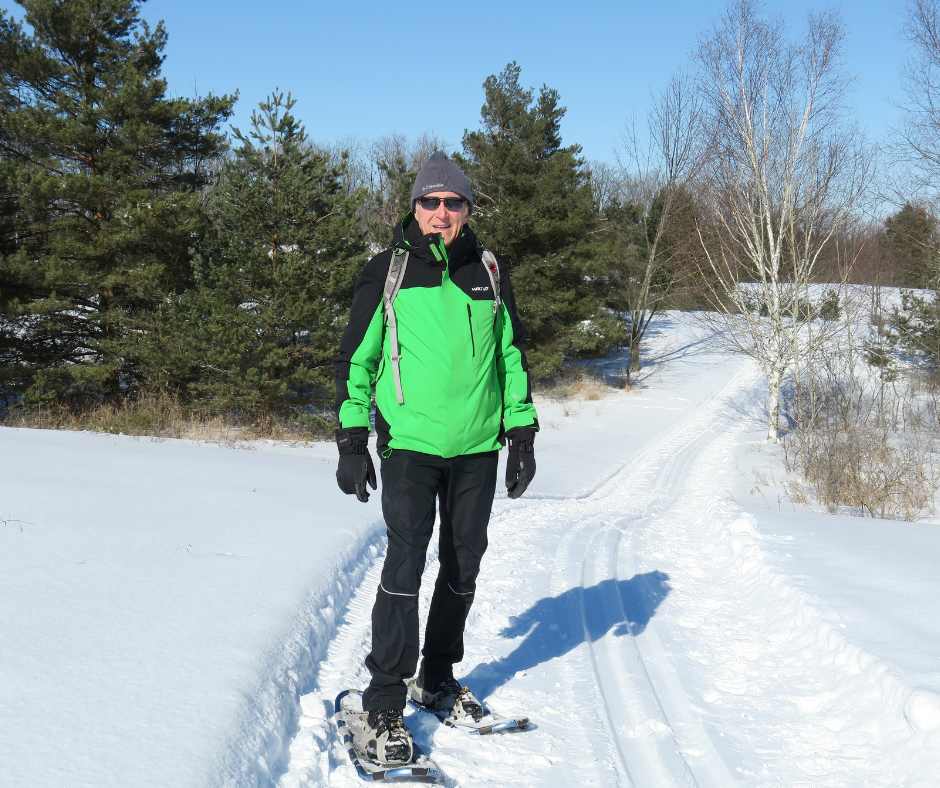 He continues, "It is vitally important that we protect and conserve natural areas in the Kawarthas by restricting development activities that remove the essential services nature provides to humans, such as wetlands that help control flooding and forests that support natural habitats and biodiversity."
Kawartha Land Trust staff and volunteers past and present are grateful for Evan's decade of incredible volunteer contributions to KLT and the community through the sharing his experience, time, and skills to protect natural spaces in the Kawarthas.
From all of us, a heartfelt thank you, Evan!
Main photo: Volunteer Evan Thomas (foreground) and additional volunteers (background) collecting tallgrass seeds from Ballyduff Trails' tallgrass prairie. Article posted on December 22, 2022.