Patricia & David Morton gift Kawartha Land Trust 133 acres of important forest, marsh and shoreline

The closing months of 2021 resulted in extremely positive news for Kawartha Land Trust (KLT) and its supporters in land conservation — Dr. Patricia Morton and David Morton generously donated the 133-acre Morton Nature Sanctuary to KLT to ensure this ecologically significant property is protected forever.

The Mortons, residents of the Peterborough area, chose to donate the property to KLT in order to safeguard its dense natural forests from logging and ensure the preservation of habitat for the abundance of wildlife that lives there.
"I think it is especially important to protect our forest for the sake of its sequestering of carbon and tremendous environmental benefits," said Dr. Patricia Morton. "And, especially, for the sake of all of the wonderful habitat, wildlife, and ecosystems that it sustains."
The Morton Nature Sanctuary lies within "The Land Between" landscape zone, an ecosystem of interest due to its unique, transitional habitat that incorporates features of the St. Lawrence Lowlands and the Precambrian Shield and contains a high diversity of flora and fauna.

The heavily-treed Sanctuary supports two major forest types: Sugar Maple-dominated deciduous forest and a mature Hemlock-dominated mixed forest that also features old growth Red and White Pines. Throughout the rolling landscape, exposed, fractured granite is visible. The property's deep valleys are home to vernal pools that support frogs and salamanders in the region.

The donation of this property by the Mortons ensures the preservation of critical habitats for species at risk like the Eastern Wood Pewee and Eastern Ribbonsnake. Its remarkable natural, undeveloped lakefront shoreline and undisturbed forests provide habitats for migratory birds and for other species, including species at risk.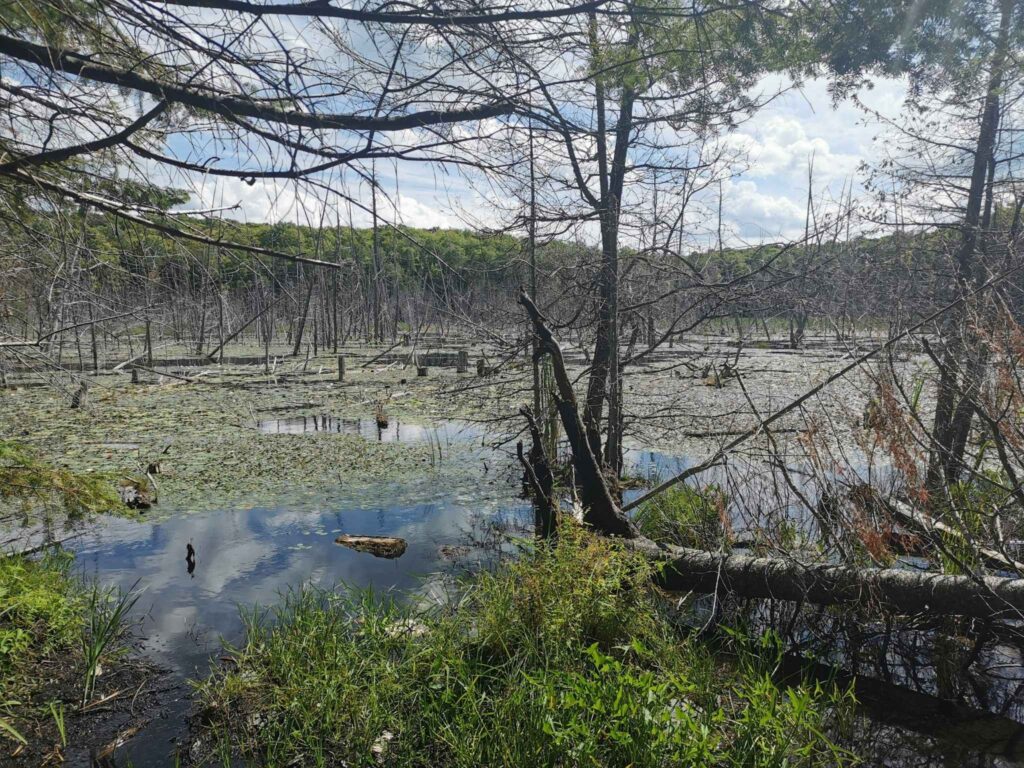 "I love that the Morton Nature Sanctuary provides habitat for bears and much wildlife, including lynx, deer, and also moose," said Dr. Morton. "And I love that this property contains hidden, shallow little bays and many wetlands that are such rich habitat and, like the forest, comprise natural carbon 'sinks' that are vital to curbing climate change."

When asked why they chose to donate the property to KLT, Dr. Morton noted that it was clear that their best option to preserve and protect the land was to donate the property to a trustworthy, non-profit, land-protection organization.

"We've known of Kawartha Land Trust and have long appreciated its work in other areas of the Kawarthas," said Dr. Morton. "We have thus seen the trust that other large landholders place in it…we have also seen the planning and careful protection it provides to the lands donated to it."
Kawartha Land Trust, on behalf of all of its donors, volunteers, and supporters, thanks the Mortons for their generous donation of this important nature sanctuary.

Learn more about the property and the Mortons' reason for donating it in our interview with Dr. Patricia Morton.
At the request of the donors, the Morton Nature Sanctuary will not be open to public access and its location will not be disclosed in order to ensure the preservation of its sensitive habitats.
Posted June 15, 2022. Main photo: Natural shoreline of Morton Nature Sanctuary (Thomas Unrau/KLT).