As soon as you arrive at the 660 acre Cation property you know it is a special place worth protecting. You can help protect this property by making a donation today to KLT.
The property is filled with rolling areas that used to be pasture grasslands, meadow thickets, early successional and mixed hardwood forests and a swamp that is part of a large (183 acre) Provincially Significant Wetland.
It sits right in the middle of several important protected areas including the Altberg Wildlife Sanctuary Nature Reserve, Indian Point & Balsam Lake Provincial Parks, Queen Elizabeth Wildlands Provincial Park and the Carl Sedore Wildlife Management Area.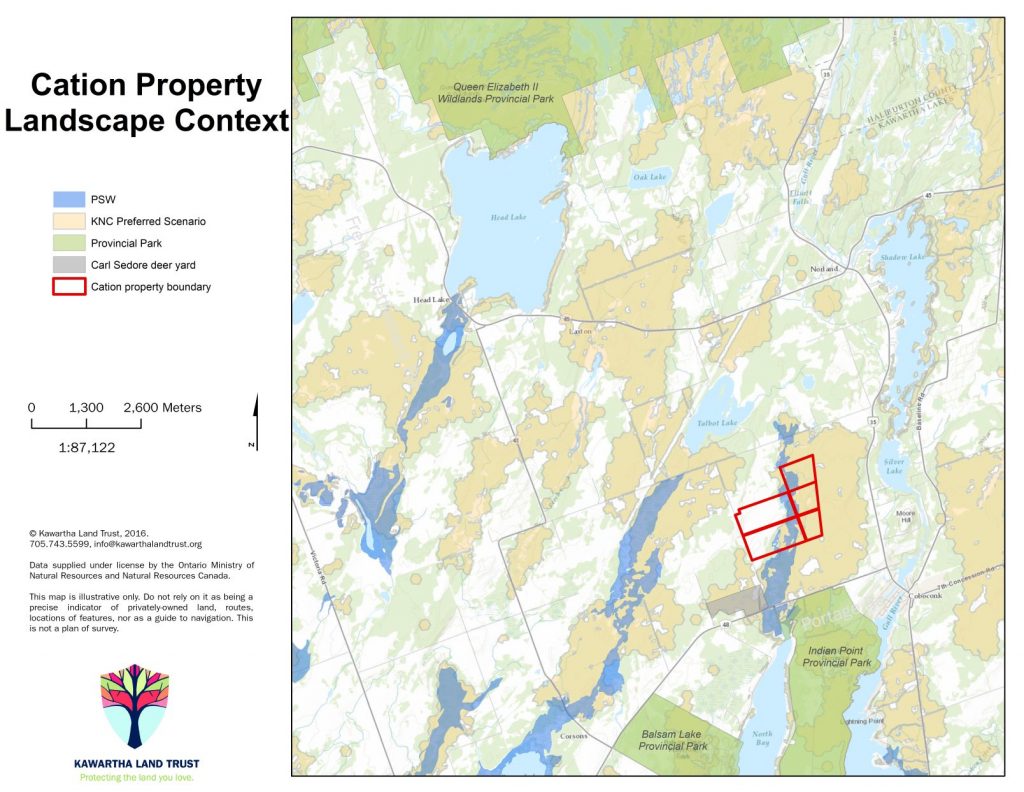 The landscape is vibrant and full of life. A trail system passes through the grasslands and meadows that are filled with different butterflies and moths flying between the many wildflowers and milkweed plants. The air is filled with the songs of different grassland bird species including Eastern Towhees, American Goldfinches and Field Sparrows that are foraging through the shrubs and trees.
The property is a wildlife hot spot. Bird enthusiasts have spotted several rare species on the property such as Golden-winged Warblers and Bald Eagles. Upland Sandpipers and Thrashers have also been seen here.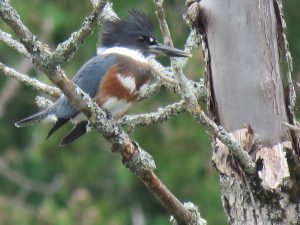 Closer to the wetland in the middle of the property there are tons of Leopard and Green frogs hopping along and across the trails. Belted Kingfishers, Hooded Mergansers and Painted Turtles are regular inhabitants of this swampy area.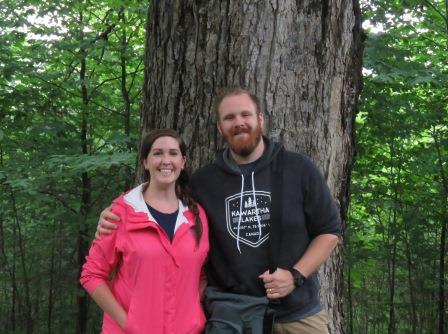 The staghorn sumac, wild red raspberry and blackberry bushes found throughout the property are an excellent food source to many species, especially mammals. There are signs that white-tailed deer, coyotes, black bears and even moose have visited the property. This shows that this is a popular natural corridor that provides a safe haven for wildlife to roam and connect to the adjacent landscape.
Seeing this growing and thriving area, it's hard to believe how much damage people have done to the property over more than a century of hard use. In the 1800s this property was heavily logged, wiping out old hardwoods and conifers which reduced the forests and opened up the landscape. The open fields were then used as a range, with cattle grazing here for many years.
Another round of logging occurred less than 30 years ago which wiped out the larger trees and significantly reduced the property's biodiversity.
The land was eventually sold to a recreational hunter who used the area to train dogs to hunt coyotes. The property was completely surrounded with an electrical fence to keep the dogs in and the coyotes and other large wildlife out. The fencing prevented several species from using the natural corridor and accessing the protected natural spaces in the area. As a result the species composition was altered, which in turn changed the environment and ecosystems on the property.
After several years of this use, the land was left vacant and the landscape began to heal. Grasses and shrubby plants began to grow, muddy open areas where the dogs once ran became covered with native vegetation. The fencing deteriorated which allowed large wildlife to once again use the property as a natural corridor.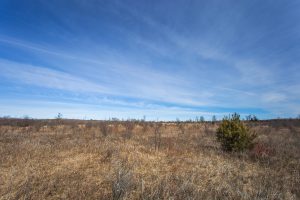 The forest is now in an early successional state, made up of species such as poplars, birches, juvenile maples and ironwood trees. It will be exciting to see the changes to this beautiful piece of land in the future.
Fortunately David and Sharon Cation recognized the beauty of this unique piece of land and purchased it in order to protect it. They have decided to donate it to the Kawartha Land Trust so that it is protected forever.
An additional benefit of their decision is that the old dog kennels, including gates and locks, wire fencing and old rain barrels on the property are being re-purposed by the Kawartha Wildlife Centre.
KLT Volunteers spent two days this summer taking everything apart so it can be repurposed into wildlife enclosures and raccoon beds. There is so much wire fencing that other wildlife organizations will also be able to use the old fence to construct new enclosures and other projects.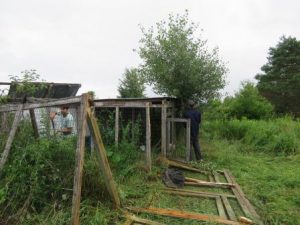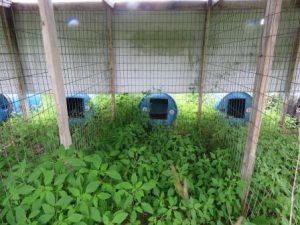 Olivia Vandersanden of the Kawartha Wildlife Centre said "the materials collected from the Cation property will be used to construct cages for animals undergoing rehabilitation with the purpose of returning them to the wild once they are healed/mature. These materials will help us care for Ontario wildlife and contribute to conservation efforts in the Kawartha Lakes area." The Kawartha Wildlife Centre is a charitable wildlife rehabilitation organization located in the heart of the Kawarthas. Their goal is to rescue, rehabilitate and release sick, orphaned and injured native Ontario wildlife. "KLT has an important role in our region to protect land, in turn they will be helping to protect our wildlife, " continued Vandersanden.
With the landscape regenerating and the materials once used for harm now being used to help heal and rehabilitate wildlife, it feels as though the property has come full circle. This land now serves as a beautiful example of how resilient nature can be and how fast it recovers when left untouched.
And there is more to be done. As with all KLT properties, before a gift of land can be accepted we need to increase our stewardship fund to ensure the property can be properly cared for in perpetuity.
Protection of this property will help toward achieving Canada's Protected and Conserved areas commitments of conserving 17% of Canada's land and inland waters by the end of 2020.
Letters of support for this project have been received from Curve Lake First Nation, Ontario Parks, and MP Jamie Schmale of Haliburton – Kawartha Lakes – Brock and can be seen below:
You can Make a donation today to help protect the Cation Property and more important places in the Kawarthas, thank you!
Posted September 28, 2018.