The Jeffrey-Cowan Forest Preserve was one of three environmentally significant properties that we protected this year!
We would like to share with you some of the stewardship activities that have taken place this year as a result of the generous support from many volunteers and donors like you.
The Jeffrey-Cowan Forest Preserve includes 135 acres on the North Shore of Stony Lake with significant forest comprising of large old growth White Pines and White Oak, scenic views, amazing trails, and 1,300 feet of significant shoreline. This donation permanently protects the eastern end of the 10 km KLT Stony Lake Trails.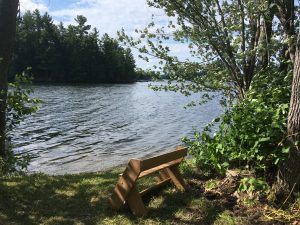 Many of you attended the event on July 21, 2018 when approximately 75 guests gathered on the north shore of Stony Lake in celebration of several incredible gifts of the late Norman Cowan to KLT, including the Jeffrey-Cowan Forest Preserve and East Syndicate Island.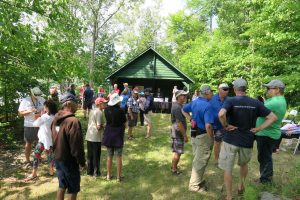 Longtime friends of Norman, Carol Ingleton and Arthur Huycke, shared stories emphasizing his love of and history of care for the property. Norman loved sharing his trails with others so they too could enjoy his little piece of paradise.
(videos can be found here: www.kawarthalandtrust.org/jeffrey-cowan-forest-preserve-celebration)
In 2005, Norman placed a conservation easement agreement (CEA) on East Syndicate Island. The CEA is held by KLT and was registered with the Environment Canada Ecological Gifts Program. A CEA protects the natural conservation values while continuing to allow private ownership of the land.
In Norman's final estate, he left ownership of the Jeffrey-Cowan Forest Preserve, the remaining 'title' of East Syndicate Island, and a generous cash donation to KLT. The cash donation will go toward the Jefferey-Cowan Forest Preserve Fund, within KLT's Land Stewardship Fund, and will be used for activities as indicated in Norman Cowan's Will.
Norman had not previously placed a conservation easement agreement on his mainland parcel and although the site was known and enjoyed by many, this donation to KLT was the first step in conservation of that property.
You're invited to enjoy the trails on this property as part of the larger Stony Lake Trails network in a passive manner (walking, cross-country skiing, and/or snowshoeing) as many of you have already done in the past, while respecting the natural area and the wildlife who call this home. We are not encouraging public access at this time on East Syndicate Island and if you have an interest in visiting the site, please contact KLT in advance.
Land Stewardship Activities on the Jeffrey-Cowan Forest Preserve (2018):
Stewardship Team:

As with all new KLT properties a volunteer stewardship team is formed to assist in the ongoing management, maintenance and monitoring of the property.
Long-time Stony Lakers, Ed Duncan and Ian Smith, are leading the team for this property.
With the help of many over the course of the summer, volunteers have removed invasive species, maintained trails, and completed several inventories of plants, birds, insects and mammals. Several threatened species have been identified on the property.

Volunteers at one of the many stewardship work days at the Jeffrey-Cowan Forest Preserve in 2018
New Dock:
Thanks to the generosity of donors, a new dock was installed to provide a safe point of access to the trails from the lake.

Boaters were thankful for the new dock at the July 21 Celebration
In-the-Field Observations:

The threatened Cerulean Warbler was identified. This beautiful bird requires large mature trees and interior forest habitat, a testament to the importance of protecting this land.
Giant Hogweed (a poisonous plant that can cause serious skin irritations if you touch it) was also identified. A few plants were found and KLT will be managing this dangerous plant promptly.
Property Naming:
KLT gives property naming rights to the land donor. The Jeffrey-Cowan Forest Preserve was named by Norman through his final estate and confirmed by the executor, giving honour to both Norman and the Jeffrey family.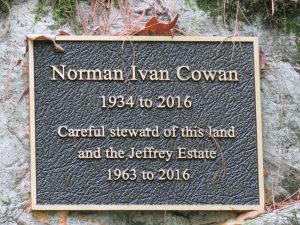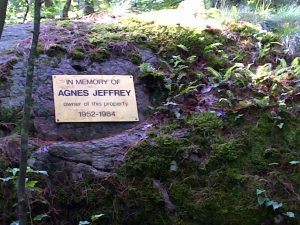 A plaque in memory of Norman can now be found by the one he had installed for Agnes.
House:
KLT has explored a number of creative solutions for the house including a visit by community groups such as Camp Kawartha and Habitat for Humanity. In the end however, keeping the house on the property is not conducive to the overall conservation objectives nor is it practical or economical. As per discussions with Norman, he understood that the home might need to be removed as this is outside of KLT's primary purpose of conservation.
KLT is a registered charity. Our mission is "caring for lands entrusted to us and helping others protect the land they love in the Kawarthas". KLT brings together donors of land, money and time (volunteers) to ensure that the Kawartha Region is characterized by natural spaces and connections that support healthy and representative ecosystems and landscapes.
Also this year, KLT has organized more than 25 special events designed to get people involved, provide learning opportunities, and encourage public access to these special areas in the Kawarthas. More than 500 people have participated in these events so far this year.
The momentum for conservation in the Kawarthas is strong. Although KLT competes for all possible sources of government and foundation support through project grants, we depend on individuals like you to make a difference and provide stable funding for land securement and stewardship.
More help is needed! Although it has been a successful year so far, please consider making a gift to conservation in the Kawarthas with an end of year donation to KLT.
Letter from Board re Norman Cowan
Posted October 24, 2018.