Holy Cross Students Spruce Up Trails on "Take Me Outside" Day
Fourteen students from Holy Cross High School participated in a full day of hard work in the outdoors on Wednesday, October 24th in honour of Take Me Outside day.
The group met at the John Earle Chase Memorial Park, just North of Gannons Narrows, to tidy up the trails on the property and plant native shrubs.
Take Me Outside day is held annually to remind Canadians of the importance of spending time outside.
The majority of the students who arrived at the Chase Property that morning were in Grade 9, and with their youthful energy and enthusiasm the accomplishments made that day hardly felt like work.
"Glad I was able to harness all their energy as it made our job much easier," said Mike Boysen, a KLT volunteer who was there to provide direction and help out.
Also on site were Thom Unrau, KLT Stewardship Coordinator and KLT volunteer Patricia Wilson.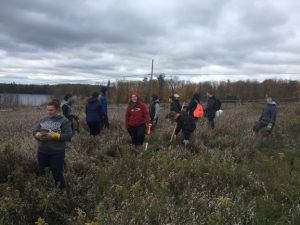 In the afternoon, the students were divided into three different groups. One group was responsible for trimming the trails, moving fallen trees, and cleaning up piles of debris. Another group trimmed and cleaned the last section of the property's Blue Trail to open it up. The third group was in charge of putting up trail markers.
Once they were finally finished everyone went for a hike to enjoy the beauty of the property and the season.
More than 200,000 students and teachers across Canada took part in this year's Take Me Outside day events to support outdoor education and nature connection. These events show that the learning environment can extend beyond four walls and a desk!
Although it's only one day and might be considered a simple gesture, these small steps can lead to big impacts.
October 31, 2018.