Forestry Students Survey the Ballyduff Trails
Article submitted by Scott Davis, Fleming College
On Monday, November 12, sixty (60) Fleming College Forestry students swarmed the 260 acres protected by a Conservation Easement Agreement (CEA) with landowners Ralph McKim and Jean Garsonnin.
"The property known as Ballyduff Trails has many unique features that attract the Forestry Technician Program," says Program Coordinator Scott Davis.
Davis acknowledged that Ballyduff Trails is an excellent property for Fleming students to survey:
"There are hardwood forests, plantations, lowland wetlands, cultural values, native tall grass prairie restoration and even the odd invasive species. Ralph and Jean are very engaged landowners and our students can see the passion from Ralph as he introduced their property to our class."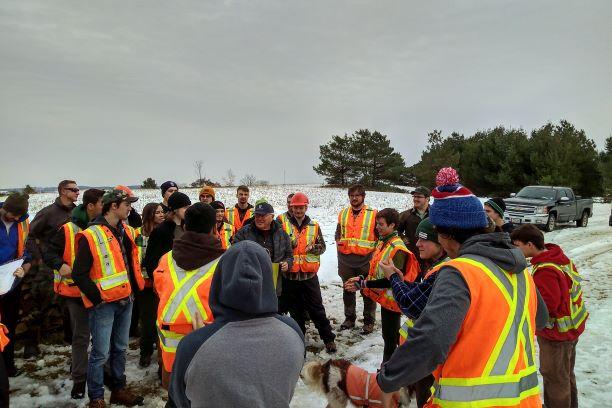 The purpose of the trip was to introduce the students to managing private land forests in southern Ontario and discuss the issues and opportunities currently available to forest owners.
"Ralph and Jean were very welcoming to our students and using their property as a living classroom," Davis concludes, thank you Ralph and Jean!
Posted November 16, 2018.