More than 300 individuals came out to listen to Dr. Dianne Saxe, Ontario's Environmental Commissioner, speak about Ontario's Protected Land Shortfall, despite messy weather and roads on Thursday, November 15, 2018.
Dr. Saxe talked about the commitment Canada has made to the Convention on Biological Diversity, a major international treaty to protect at least 10 per cent of its marine and coastal areas and 17 per cent of its land by 2020. She told the audience that we need local action to make it happen. Change is possible, with or without governmental support. Citizen scientists have the ability to form major working groups to facilitate positive changes in a community.
The event was sponsored by the Kawartha Land Trust (KLT) and Trent University and held at Thomas A. Stewart Secondary School.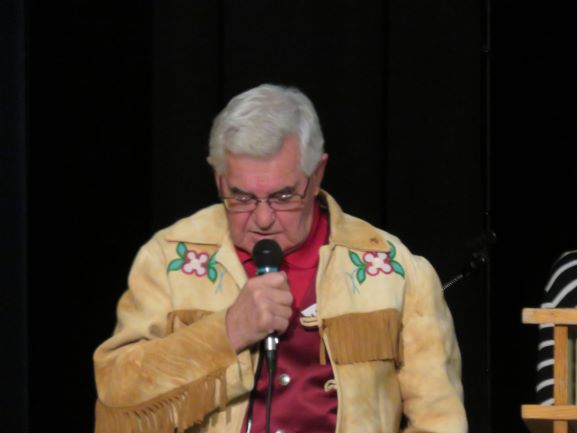 Dr. Saxe pointed out that only 10.7 per cent of Ontario is currently protected, yet the province does not have a plan to meet the 17 per cent target.
Protected areas provide crucial habitat for wildlife and species at risk. They are instrumental in maintaining ecosystem services like clean air and water, and play an important role in climate change adaptation and mitigation. They also can hold places of immense cultural and spiritual value, especially places of great importance to Indigenous communities, as well as archaeological and historic sites.
Dr. Saxe said that Ontario must undertake a frank assessment of the current status of the protected areas system, identify key opportunities for expansion, and make a clear public commitment to achieve and eventually exceed, the 17% conservation target.
Dr. Saxe was thanked by Christopher DeGeer, who is both a Trent Alumni and a volunteer with the Kawartha Land Trust.
He told the audience that when we act alone, our outcomes are necessarily limited by a number of factors, but together, great things can be achieved, and KLT provides the structure through which we can do just that, despite the province's stance on conservation.
"So, that is why I am passionate about KLT – it is an organization that has proven success in taking individual desires and motivations and harnessing them into collective action that generates meaningful and tangible results: A bridge between individuals, organizations, and the institutions that make community-driven conservation initiatives possible," he said.
Kawartha Land Trust is the only non-government charitable organization committed to protecting land in the Kawartha area. The organization currently protects 14 properties covering more than 3,355 acres of land, six areas of natural and scientific interest, four provincially significant wetlands and 30 archaeological sites.
Dr. Dianne Saxe – Presentation 2018-11-15 Kawartha Land Trust – Ontario's Protected Land Shortfall
Posted November 23, 2018.