In advance of Kawartha Land Trust's (KLT) forest bathing event in Woodview, Ontario, on November 18th, KLT volunteer Susan Scott spoke with event facilitator Kristina Domsic to learn more about the concept and practice of forest bathing
By Susan Scott, KLT volunteer and Co-Chair of KLT's People and Nature Working Group
In our fast-paced world, it's sometimes hard to consciously slow down. We're too busy thinking about the next thing we need to do, or about upcoming family or work responsibilities. However, you can experience your surroundings in a different way by taking some time for yourself by attending KLT's forest bathing event on Saturday, November 18th, 2023. Facilitator Kristina Domsic, a certified forest bathing guide, will lead attendees through an intuitive and accessible nature connection practice at KLT's Stony Lake Trails from 1 – 3 p.m.
The session is one of Kawartha Land Trust's Passport to Nature events, which is aimed at encouraging people to experience and explore nature in a variety of ways throughout the year across Peterborough and the Kawarthas. This session, and all of KLT's Passport to Nature events, are free.
Forest bathing is slow — not like a hike — allowing you to unplug, de-stress, and become aware of your natural surroundings to create feelings of calmness and relaxation. Couldn't we all use that?
According to the Japan National Tourism Organization, "forest bathing has become a vital part of preventative healthcare in Japan." While the concept of forest bathing was practiced in Japan for centuries, in 1982, the Japanese Ministry of Agriculture, Forest, and Fisheries coined the term "shinrin-yoku," meaning "taking in the forest atmosphere" or "forest bathing." Since then, studies have been undertaken to verify the physical and psychological benefits of spending this time in nature.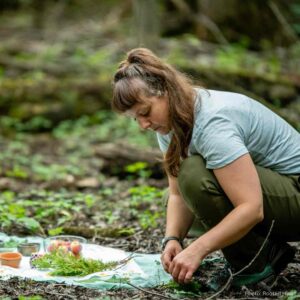 "It's a slower walk than most people are used to. The emphasis is really on what happens in the pauses between the walking," explains Kristina. "The forest is the therapist. The guide just helps the participants tune into what is happening around them and makes sure they are always in a safe environment."
The practice also includes opportunities for people to share their experiences with the other participants.
Kristina grew up in the Hamilton, Ontario, area and credits her parents — both keen outdoors people – with instilling in her a love of and curiosity about nature. Vacations were spent camping, hiking, visiting area farms, and cycling. She pursued her interest in the environment through the Environmental Studies program at the University of Waterloo and now works as an ecologist for Cambium Consulting & Engineering, based in Peterborough. Kristina also trained as a yoga teacher, something she continues through her business called Rooted Heart.
Along the way, she learned about forest bathing and realized it was something that "married my work as an ecologist and my love of nature with practices in mindfulness and brought those together."
In 2018, she received her official Forest Therapy Guide Certification and currently volunteers with the Global Institute of Forest Therapy, a non-profit organization based in Canada.
She says forest bathing is an intuitive practice. "I am more like a facilitator who is opening the door to the landscape around us and helping people find their own unique connection to nature."
To learn more about Kawartha Land Trust's upcoming forest bathing event led by Kristina, visit our event page. We look forward to seeing you there!
You can learn more about Kristina at Rooted Heart.