Collaborating with landowners to install a nesting box to benefit Wood Ducks
Rachel Barrington, Partners in Conservation Coordinator
One of the greatest joys of experiencing time in nature is the opportunity to witness wildlife in action. Happening upon a quiet deer grazing at a meadow's edge, a deafening chorus of spring frogs, or a flock of bouncing, foraging chickadees captivates our imaginations and brings peace to our souls.
One of my favourite parts about working at Kawartha Land Trust (KLT) is implementing habitat enhancement projects — specifically, through our growing Partners in Conservation (PIC) program.
Through our PIC program, we help private landowners increase or improve habitat for a variety of wildlife on their properties. This could be through projects like tree planting, pond building, adding nesting structures for birds or bats, with the goal of introducing a habitat feature that is lacking on the landscape, and other projects.
We've already worked on dozens of projects this year — from salamander surveys to tree and tallgrass plantings. This fall, we had the opportunity to undertake the installation of a Wood Duck box on a Partners in Conservation member's land.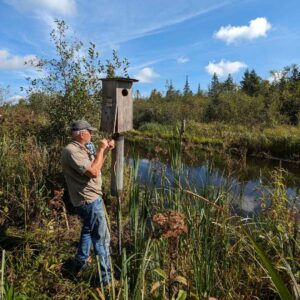 In our initial conversations about their property, the landowners, who have been members of KLT's Partners in Conservation program since 2021, noted they were interested in ways to improve or increase wildlife habitat. After assessing the ecology of their property, KLT recommended adding a nesting box for Wood Ducks.
On a warm and sunny day in September, I parked my car on the shoulder of a side road that intersects with the Victoria Rail Trail. I was greeted by the two landowners and long-time KLT volunteer, Rob Gouinlock.
The landowners had a wagon and Rob was already helping them load it with tools and a rectangular, wooden box — the Wood Duck box we planned to install. We were ready to begin our journey up the trail to the landowner's property.
Residents of Toronto, the landowners had purchased the 93-acre property, which is entirely composed of wetland, simply because "it's beautiful" and it is. They enjoy visiting the property and walking the trail, and I understand why. It's far enough from the road that you can't hear any traffic — only the breeze rustling through the cattails and occasional birdsong.
We headed to an access point of the Pigeon River Number 23 Wetland Complex, a network of Provincially Significant Wetland (PSW) that provides habitat for at least eight different Species at Risk and countless other flora and fauna. The swamp features open water channels, cattails, and small trees. There is no doubt that wetland birds breed here, however, the area is lacking in "snags" — dead or dying trees — which are critical nesting structures for Wood Ducks.
Wood Ducks are well known for their stunning plumage and their interesting preference for nesting in tree cavities. As such, they nest in swamps and require mature or dead standing trees with cavities (often excavated by Pileated Woodpeckers). Unfortunately, these conditions can be difficult to find in our local landscape, which is where nest boxes come in.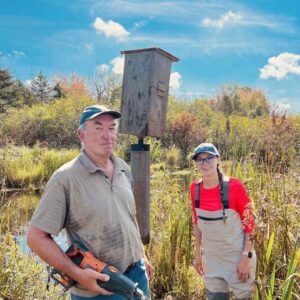 Rob has built several nest boxes for Wood Ducks for his own property and for donation to other suitable habitats. He has been fortunate to witness families of ducks raised in his boxes. By introducing a nesting box on this Partners in Conservation members' land, we hope that Wood Ducks will have everything they need to breed here.
After some time exploring possible locations for our Wood Duck box project, we came across the perfect spot. Rob reached into the wagon and pulled out the wooden box that he'd built — approximately two-feet tall, with a small, shingled roof and an oval-shaped entrance hole. The box mounts onto a metal pole with a predator guard to keep the inhabitants safe.
We installed the box on the edge of an open water channel so that when the ducklings are ready to leave the nest, they will take a leap from the opening — about five feet off the ground — and cannonball safely into the water below. Installing the box in the fall ensures it will be available for prospective Wood Duck pairs to investigate early next spring.
Hopefully, this wetland will provide the perfect nursery for Wood Ducks for generations to come all thanks to the landowners who steward this property, KLT volunteers who work to support conservation, and the donors who enable our work to happen.
If you are a landowner interested in our Partners in Conservation program, or if you would like to volunteer your time, effort or skill set towards projects like this one, please contact us at [email protected] or 705-743-5599.
Banner image: eei_tony/iStock Getty.