From the prairies of Saskatchewan to the tallgrass prairie of Pontypool, Canadian Conservation Corps Intern Tanner Stevens took a break from the field to relay his experience interning with Kawartha Land Trust this fall.
*
Hello, my name is Tanner Stevens! I joined Kawartha Land Trust (KLT) this fall as a participant in the Canadian Conservation Corps (CCC) program through the Canadian Wildlife Federation (CWF). The CCC program allows youth to connect with nature, develop important skills, and gain valuable experience in the conservation field.
My CCC journey started this past summer in beautiful British Columbia with an introductory week followed by two weeks of sea kayaking in Clayoquot Sound. It seemed natural for me to join a program like this – I have always loved to travel and spend time outside. Additionally, I have always cared deeply about the environment.
The second stage of my CCC program brought me to the Kawarthas to intern here at KLT. I was immensely excited to be paired with KLT and eager for a world of new experiences. I was born and raised in Southern Saskatchewan, and, having lived in the prairies for so long, I was anxious about being transplanted into the land of lakes and forests.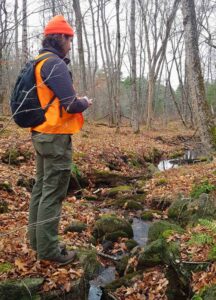 On par with the rest of my CCC experience, my time here in the Kawarthas has been nothing short of challenging, but ever so rewarding in the knowledge and experience I am taking away.
While I was quick to adapt to my new environment, the transition required a lot of dedication and a lot of help from field guides. Soon enough, I was more comfortable with features of the forests, however, I was immediately enamored with the tallgrass prairie at KLT's Ballyduff Trails in Kawartha Lakes. Although a very different ecosystem than the prairies out west, the familiar sea of grasses waving in the wind felt like I was reuniting with a friend.
Working for KLT has been incredibly fun and exceptionally rewarding. No two days have been the same, and I was so fortunate to have such nice weather that allowed us to work in the field for so long.
I have been primarily working on KLT protected properties doing trail maintenance, trail monitoring, invasive plant species removal, seed collection, and other stewardship projects. Additionally, I was able to help with lots of other happenings at KLT including some Partners in Conservation (PIC) work, doing property surveys, tree plantings, and just getting to meet and talk with participating landowners.
There are so many highlights from my time here that I don't even know where to start. Getting to just explore the many diverse properties KLT protects has been one of the best parts even if that was exploring a property while pulling invasive Garlic Mustard.
If I am outside, it is incredibly hard for me to have a bad day. And if you add the amazing staff at KLT, I can't even think of a less than ideal work day. Some of my favourite days have been spent in the tallgrass prairie where we have worked on restoration preparation and seed collection and scattering as we expand one of the most threatened ecosystems in the world. Although I won't be here to see the results, it was so worthwhile to participate in such a big project.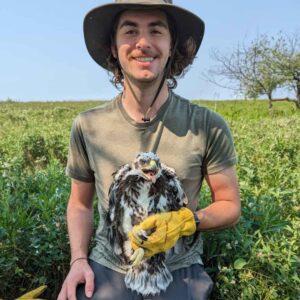 While I am sad to think about the end of my internship, I have much more to accomplish with the CCC. The final leg of my program will be based in my home community of Avonlea, Saskatchewan, and the surrounding area.
As participants we are expected to take on and lead a community-minded conservation project. I am going to embrace my Saskatchewan roots again and focus on Ferruginous Hawks, an at-risk species that is endemic to the prairies. I plan to take my prior knowledge as well as what I have learned here at KLT to work with landowners to implement artificial nesting platforms in suitable habitat for the hawks.
I am so grateful for the Canadian Conservation Corps program but also for Kawartha Land Trust. I'm specifically thankful for Hayden Wilson, KLT's Land Stewardship Manager, who took me, and other CCC interns of the past, on. I am looking forward to the last third of my placement and will squeeze in as much as I possibly can before returning back to the great plains. I couldn't have asked for a better fall amongst the trees and tallgrasses.
*
From all of us at Kawartha Land Trust, we're thankful for Tanner's work to protect the land we love in the Kawarthas. Thank you, Tanner!