KLT 20th Anniversary Series
Marnie Clement, KLT Volunteer
While a number of Kawartha Land Trust (KLT) protected properties have trails that are open to the public, the Stony Lake Trails, located above the north shore of Stony Lake, are the first KLT trails to cross multiple properties.
With the support of volunteers, donors, staff, and neighbouring landowners, the 10 kilometre network was officially opened in the summer of July 2016. Since then, the Stony Lake Trails have been enjoyed by walkers and hikers out to experience the unique geology that makes the area both ecologically significant and beautiful.
The trail network crosses through:
The 73-acre Ingleton-Wells property (yellow and brown trails), which is situated primarily on limestone bedrock.
The 137-acre Jeffrey-Cowan Forest Preserve (red trail), which includes a hilltop lookout and one of the largest undeveloped stretches of shoreline on Stony Lake.
Neighbouring property owned by Viamede Resort (blue trail).
In 2021, QR codes (a type of matrix barcode) were posted on signs throughout the Ingleton-Wells section of the Stony Lake Trails. The QR codes, which can be accessed via smart phones, can be used by visitors to learn about the history, plants and wildlife found along the trails.
The inspiration to create both the trail network and develop the QR code system came from Ralph Ingleton. The Ingleton and Wells families co-purchased the Ingleton-Wells property in 1998 with the intention of ensuring that the land was conserved. In 2011, the families donated the land to Kawartha Land Trust. The Jeffrey-Cowan Forest Preserve was donated by Norman Cowan and protected in 2018.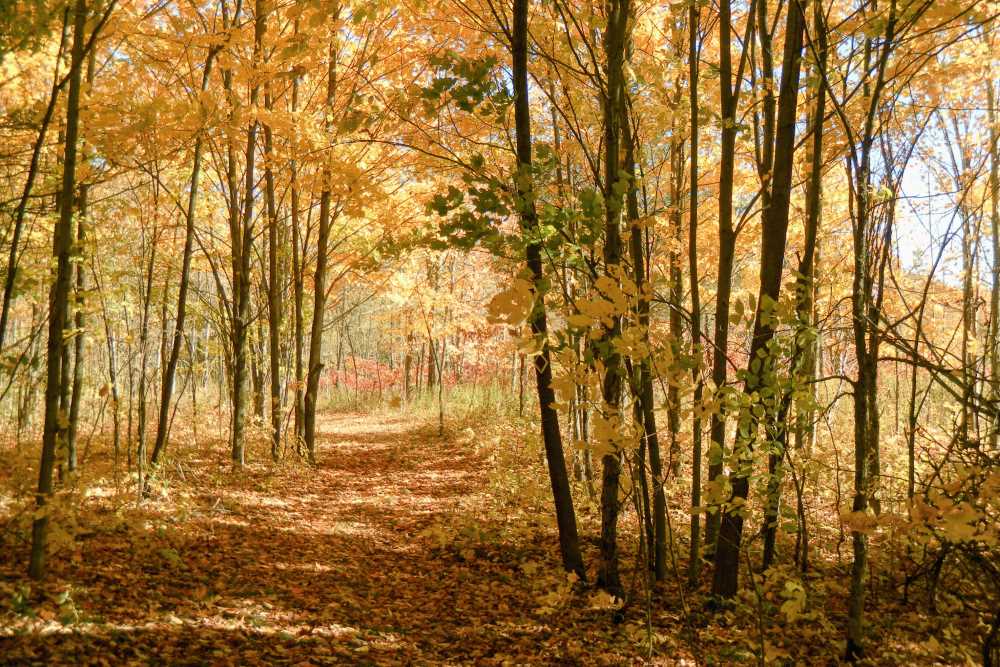 While the Jeffrey-Cowan Forest Preserve covers an undeveloped stretch of land that includes dense pine and oak forest, the Ingleton-Wells property was once used as a farm and is currently undergoing a natural rewilding process supported by KLT stewards and volunteers.

Cleared for agricultural use in the 1800s, evidence of the farm can still be seen, including the foundation of a house and a small apple orchard. More recently, the property was known as the Reid/McCauley Farm and was last used as a riding stable in the 1960s. Today, the property includes open fields, swamps and upland forests that support diverse habitats.
These protected natural landscapes represent an important piece of local history in the Stony Lake area. They are also an important part of the history and future of Kawartha Land Trust and land conservation efforts in the region.

Learn more about the Ingleton-Wells property and Jeffrey-Cowan Forest Preserve.

Considering a visit to KLT's Stony Lake Trails? Download a Stony Lake Trails map and tag us in your photos with #KawarthaLandTrust!
Posted April 12, 2022