On Saturday, May 28, 2022, Kawartha Land Trust (KLT) staff and volunteers came together to plant 600 Red Pine, Bur Oak and Red Oak trees at Ballyduff Trails in Pontypool, Ontario.

This effort is part of KLT's ongoing efforts to restore degraded forest stands in the southern part of the property and provide habitat for species at risk like the Eastern Whip-poor-will, which relies on open meadows and prairies and sparse woodland ecosystems for foraging and breeding.
Unlike a typical tree-planting event, which would usually take place in a cleared space, this planting took advantage of gaps in a degraded Scots Pine stand (Scots Pine is an invasive species of tree that was brought to Canada for timber production) where the hardy, native pines and oaks will begin to establish the edges of a new forest.
The location for the planting was chosen for a number of reasons. Practicality and ecological benefits played a role in that selection. Felling invasive trees and clearing brush piles across an area large enough for the planting would have been an incredible physical and expensive effort, so we decided to work with the attributes of the landscape.

Earlier in the season, KLT staff and volunteers embarked on a concentrated site prep, widening gaps in the patchy forest to accommodate the native trees we planned to plant.
The oak and pine trees we planted were planted slightly closer together than one might typically plant these species; however, this should spur competition and rapid growth in minor but hopefully impactful ways.

We wanted to increase the momentum of the forest's natural regeneration that we have seen in adjacent stands, which have already begun to show signs of native species poking up through the Scots Pine canopy.

When undertaking land stewardship activities on our protected lands, such as this one at Ballyduff Trails, we're always trying to find ways to make a big impact on the landscape without working against whatever conditions are present in the ecosystem or what we can feasibly handle.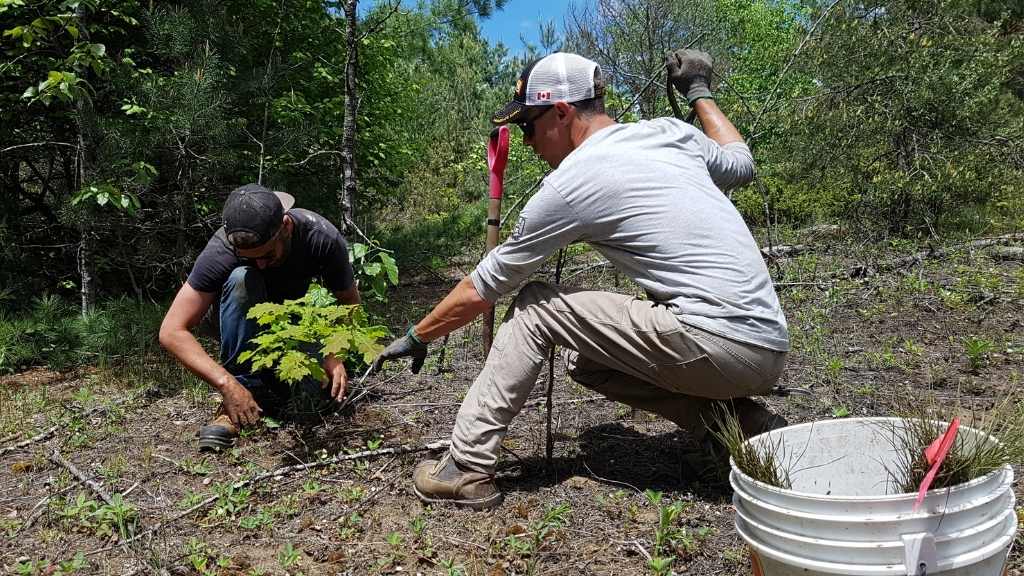 The planting was an incredible success, and, as always, KLT's dedicated volunteers showed care and attention to the landscapes we strive to protect. Thank you to all who joined us.
Sign up for the Kawartha Land Trust e-newsletter to learn about upcoming volunteer and tree-planting opportunities.
By Hayden Wilson, KLT Land Stewardship Coordinator. Posted on June 9, 2022. Photos: Volunteers planting pines and oaks at Ballyduff Trails (Hayden Wilson/KLT)