KLT 20th Anniversary Series
Marnie Clement, KLT Volunteer
Just after Kawartha Land Trust (KLT) was created 20 years ago it became one of the founding members of Ontario Land Trust Alliance (OLTA).
OLTA connects the land conservation community by sharing knowledge and best practices, reducing financial barriers to land conservation, promoting organizational excellence, sharing access to current research and Indigenous knowledge systems and acting as a voice for land trusts among the public, governments and other rights holders and partners.
It is committed to supporting Ontario land trusts, including KLT, to help them achieve their missions through education, training, grants and promotion of their collective impact.
Kawartha Heritage Conservancy (KHC) (now KLT) was one of 14 land trusts that founded Ontario Land Trust Alliance, which grew out of Ontario Nature Trust Alliance (ONTA).
One of KHC's founders and executive directors, Ian Attridge, was also Vice-Chair of ONTA and participated actively in the organization and discussions around forming OLTA. The formation of OLTA positioned KLT to help and advise other land trusts in Ontario.
With both organizations celebrating their 20th anniversaries this year, it's important to see how the organizations work together and complement each other.
OLTA is a registered charity, like KLT, focused on providing community knowledge sharing and support to land trusts and other groups committed to land conservation. OLTA's mission is to empower a vibrant and enduring land trust community in Ontario. Since its inception, the organization has helped protect more than 100,000 acres of land across the province.

Currently, KLT's Community Conservation Coordinator, Patricia Wilson, serves on OLTA's Board of Governors. In 2020, she was awarded the organization's Emerging Land Trust Leader Award.

"I have always admired the work that OLTA does for Ontario Land Trusts — it seems like every year they are building and expanding in new ways in order to provide better and more support towards land trusts across the province," said Wilson. "What enticed me to join the OLTA Board was their new strategic plan. I thought their intentional focus on 'advancing Diversity & Inclusion in all land trust practices' through one of their strategic pillars was remarkable. It's important and necessary work and OLTA continues to demonstrate leadership in our land trust community."
OLTA's vision is a landscape rich with connected and protected spaces supported by a thriving conservation community. One statement on the OLTA website really stands out: "Nature does the heaving lifting for us. All we have to do is protect it."
Working with more than 50 connected charities and communities from Rainy Lake to the west to Windsor to the south and Cornwall to the east, OLTA members collectively own and care for land across Ontario with the support of thousands of volunteers and supporters.
Together, we're looking ahead to the next twenty years of land conservation in Ontario.

Learn more about Ontario Land Trust Alliance (OLTA) on their website.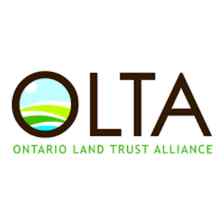 This article was published on May 13, 2022. It is part of a series of articles written by KLT volunteer Marnie Clement to commemorate KLT's 20th anniversary.