Image: (L-R) Anna Lee; Opertations Manager, John Kintare; Executive Director, Tara King; Development Manager, Legacy Volunteers: Ralph McKim, Lawrie Keillor-Faulkner, John Platt and Thom Unrau; Land Stewardship Manager
KLT Recognizes Volunteers with 10+ Years of Volunteer Service & Big Island Management Advisory Team
Kawartha Land Trust (KLT)'s annual Thanks.giving on Thursday, October 10th was a very special night honouring KLT volunteers and donors; with special recognition to four volunteers who have been donating their time and talents to protecting the land you love for 10+ years, and to members of the Big (Boyd/Chiminis) Island Management Advisory Team (BIMAT).
The event took place at South Pond Farms in Pontypool, adjacent to KLT's Ballyduff Trails. The trails wind through the 260 acre McKim-Garsonnin property on the Oak Ridges Moraine, this property is protected through a Conservation Easement Agreement with KLT. Prior to the celebration event, attendees participated in guided walks of the property, enjoying spectacular views and stunning fall colours.
"Through some archaeological digging in records, and talking to other committed volunteers, we determined that KLT has been enabled by some volunteers who have been involved since nearly the beginning," said Anna Lee, KLT's Operations Manager. The organization was first incorporated in 2001, as Kawartha Heritage Conservancy, and later rebranded to Kawartha Land Trust in 2013.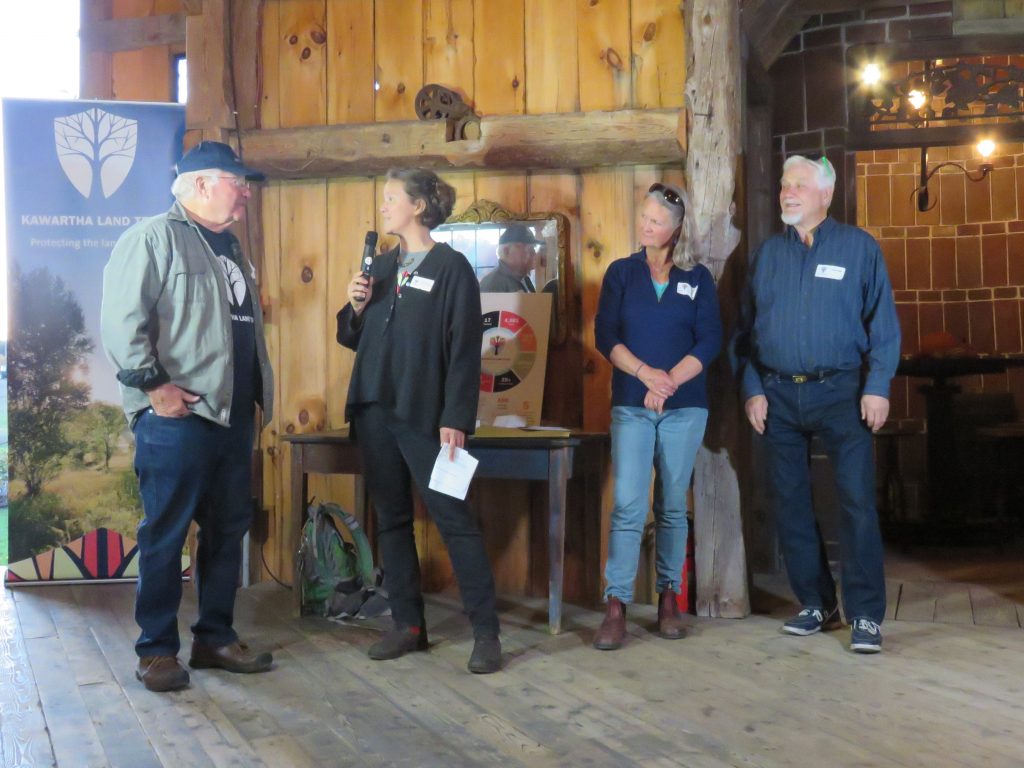 Four long standing KLT volunteers who have been volunteering for 10 to 17 Years:
This year's event marks the first time KLT has recognized key volunteers for their years of service. As an organization, KLT relies on the support and dedication from our volunteer base and this is only the first wave of volunteers to be recognized for their commitment. There will be many more Legacy Volunteers honoured in the years to come!
Roz Moore – 17 Years of Volunteer Service
Roz has been a volunteer since 2002. She is a passionate believer in conservation and stewardship of natural spaces, and has a strong background in governance knowledge. Her past time on the board as a director as well as board Chair, as a Stewardship committee member, and as a current Trustee, and all round champion of KLT has made a huge impact.
Roz has also named KLT as a beneficiary in her Will, ensuring her commitment to conservation in the Kawarthas will last beyond her lifetime.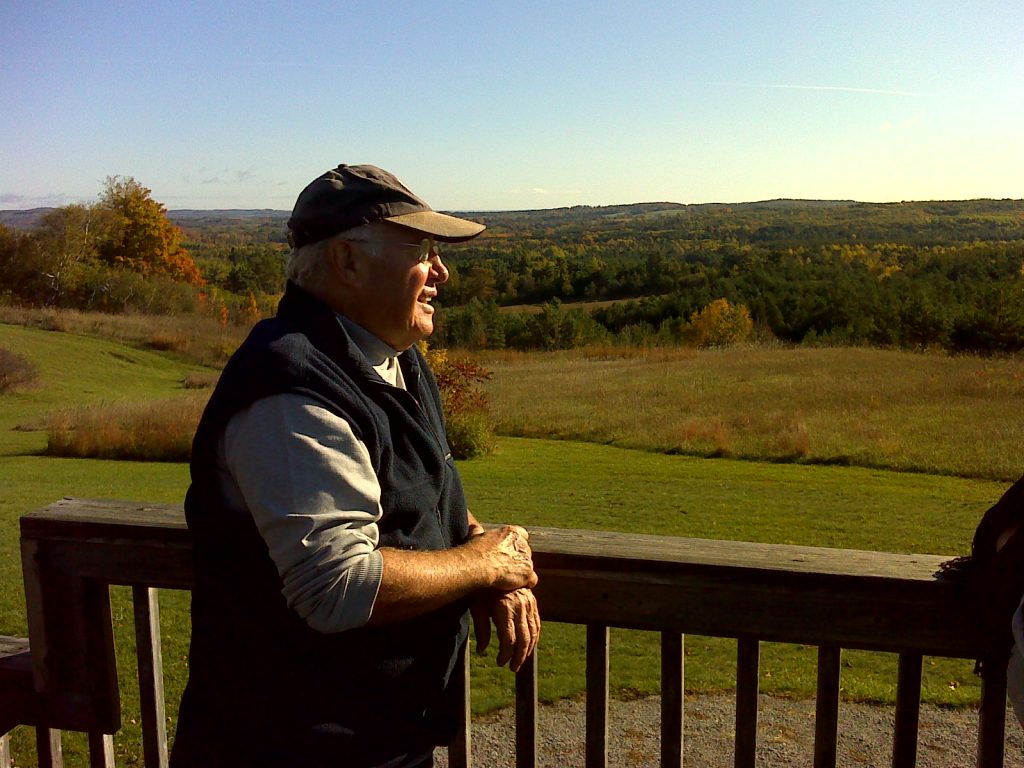 Ralph McKim – 16 Years of Volunteer Service
Since 2003, Ralph has supported KLT and its mission in many, many ways. Ralph is a former board member; current Trustee and stewardship committee member; tall grass prairie promoter, trailblazer at Ballyduff; and one of the lead volunteers for the new Fleetwood Creek Watershed Initiative. Ralph is an inspiration to those around him, and has helped to shape KLT into the organization it is today.
Ralph and his spouse, Jean Garsonnin protected their 260 acre property with the Ballyduff Trail through a conservation easement agreement with KLT in 2011, to ensure the land they love will be protected in perpetuity.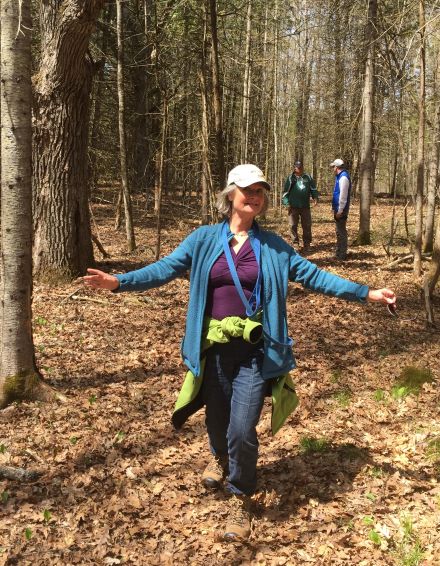 Lawrie Keillor-Faulkner – 10 Years of Volunteer Service
Lawrie has been volunteering since 2009, she took a sabbatical from her career as a professor at Fleming College to volunteer with KLT. The time and expertise given during this time was pivotal to setting the foundation for KLT's later growth. Lawrie's ongoing support through sharing her GIS and mapping expertise, empowering others with these skills, championing KLT in the community at events and our property celebrations, and being a general purveyor of conservation, stewardship and GIS/mapping knowledge has made a huge impact on KLT.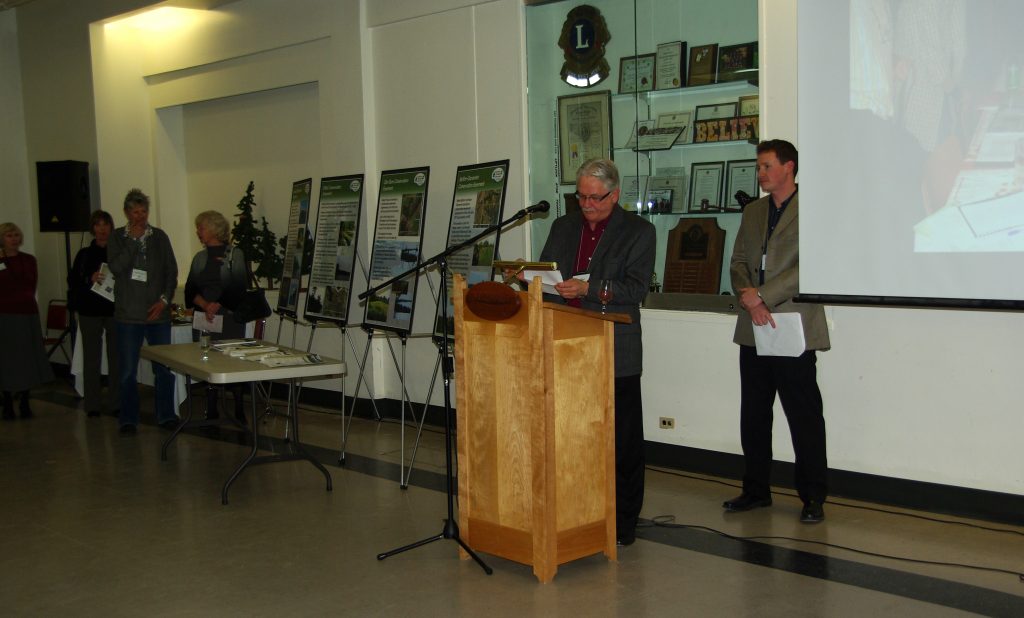 John Platt – 10 Years of Volunteer Service
Since 2009, John has been donating his time to KLT. A former Board Chair and Director, current development committee member, promotor and host of KLT at the Gilmour St. Garage Sale (and expert candy floss maker), community ambassador sharing his connections to organizations like the Kawartha Park Cottagers' Association, and always willing to share his knowledge for the benefit of KLT.
KLT looks forward to recognizing a second wave of volunteers reaching this extraordinary milestone again next year with several more volunteers nearing 10 years of dedicated service.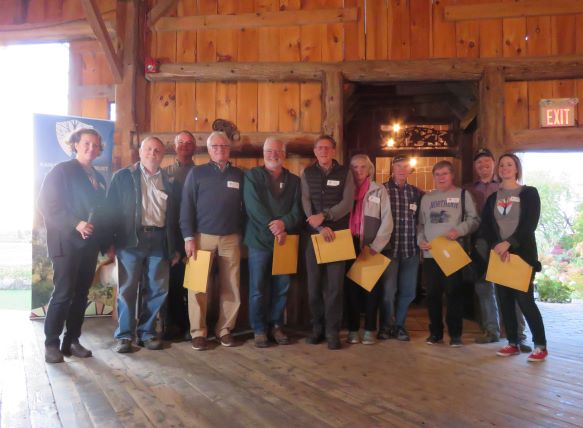 Big Island Management Advisory Team
KLT and along with the community had the opportunity and vision to protect Big (Boyd/Chiminis) Island in perpetuity, and in 2015 thanks to the generosity and tremendous effort of many, that dream was achieved.
However, for KLT and a group of dedicated and talented volunteers, their work had really just begun. In order to ensure the smooth transition of ownership to KLT, including sound ecological stewardship and positive communication of permitted activities, the Big Island Management Advisory Team (BIMAT) was conceived.
From April 2016 to November 2018 BIMAT worked tirelessly to create and implement strategies to fulfill all of these needs. BIMAT helped KLT determine permitted activities, addressed access issues, trail usage etc. It had to clean up and decommission old campsites, put up signs and a host of other tasks. KLT has a small staff team, and we rely on both the expertise and sweat equity of our volunteers to help us work towards our mission of protecting properties in perpetuity. The skills and commitment of BIMAT members have made a significant and lasting impact to the sound management of Big island.
Our thanks to the BIMAT: Ann Adare, Chris Appleton, John Bick, Marnie Clement, James Conolly, Jeff Crowe, Ian Deslauriers, Jim Dillane, Warren Dunlop, the late Altamae Eberlee, Sheila Gordon-Dillane, Richard Graham, Ted Hill (Sr.), Jim Inch, Janet Klein, Keith Knott, Karen Laws, Bev Matthews, Barb McFadzen, Peter Orgill, Al Sippel, Evan Thomas, Donna Wales, and Tim Young.
KLT staff, Board and Trustees appreciates and recognizes these members' contributions to establishing Big (Boyd/Chiminis) Island as the largest undeveloped island in Southern Ontario! No small feat; and a reminder that great things can be accomplished by the hands of many.
KLT now protects 17 properties comprised over 4000 acres throughout the County of Peterborough and City of Kawartha Lakes, 6 of these protected properties have trails and are open to the public to enjoy and connect with nature. This is in large part due to dedicated volunteers like Lawrie, John, Ralph and Roz, and we look forward to their continued involvement!
Posted October 18, 2019.