If you're looking for a way to make a lasting impact on the landscape in the Kawarthas, join Kawartha Land Trust (KLT) from 10 a.m. until noon on Saturday, September 23, 2023, for a free community tree-planting and mapping event: The Best Time to Plant a Tree is Today: Trees for All.
Each registrant for this event will be able to pick up one of the 175 tree seedlings available at our two distribution locations — Fleming College Frost Campus in Lindsay and KLT's Dance Nature Sanctuary near Lakefield — to plant at their home.
Twenty-five trees will also be available for those who wish to plant a tree at our Dance Nature Sanctuary, a 99-acre property that was generously donated to KLT in 2006 by Dr. Alice Sharpe.
Four species of native trees were selected for their resilience and ability to grow within a variety of habitats: Northern Hackberry, American Mountain Ash, Eastern Red Cedar, and Eastern White Pine.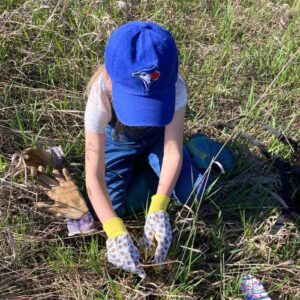 Those participating in our community tree-planting day will also have the opportunity to contribute to the online community map we have created for the event to show all of the trees planted and the collective impact of individual actions.
"For anyone who has wondered 'Does my solitary effort really make a difference?' this event is for you!" said Anna Lee, KLT's Director of People and Operations and Co-Chair of the organization's People and Nature Working Group.
"We're creating a community map to show the collective impact of many individuals across a broad landscape. It's a reminder that, yes, every action matters and each of us has the ability to positively influence the environment we live within."
Trees clean our air, provide shade, prevent erosion, and provide vital food and shelter for wildlife. Kawartha Land Trust is committed to implementing natural climate solutions in the Kawarthas and inviting the broader community to get involved in those efforts. And, as Lee notes, it can be fun as well.
"Digging in the dirt and planting trees is fun and not just for squirrels. Whether you are young or old, there is delight to be found in planting trees. Once the planting is done, the enjoyment continues as you care for and watch your tree grow year after year."
This event is part of KLT's Passport to Nature (P2N) program — a year-long series of free, guided adventures in nature. Our 2023-2024 P2N program is sponsored by Cambium Inc.
We encourage those interested to join us on September 23rd for this special community event to plant 200 trees on the land we love. Bring out your family, your friends, and your shovels, and make a collective difference upon on our shared landscape.
Register online for this free event.
Header image: Mature Eastern White Pine at KLT's Ingleton-Wells property near Woodview. (Dani Couture)