For the past two Thursdays, May 18 & Thursday May 25, volunteers have been working at 'Tying the Ribbon of Life' on Big Island (Boyd/Chiminis) Island.
Shoreline areas have sometimes been called the "Ribbon of Life" because so many species congregate on the area where land meets water.
Our Big (Boyd/Chiminis) Island property on Pigeon Lake protects over 10 km of shoreline. To restore the "Ribbon of Life" volunteers planted shrubs in areas around the island helping to create a more diverse and healthy lake, and enhanced habitat for many species.
We want to give a BIG thank you to all the volunteers for their efforts on this project!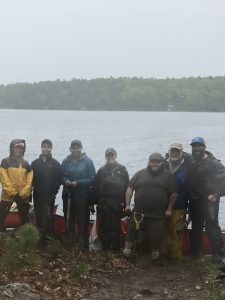 Watch the video prepared by one of our volunteers, Bretton Clark from The Land – Canadian Adventures:
At Kawartha Land Trust our volunteers are the heart and soul of what we do. We feel very fortunate to have a large, enthusiastic and dedicated volunteer base with a range of talents who give us the gift of their time to help us accomplish our land securement and stewardship goals for the Kawarthas and engage the community in support of this work.
In 2016, over 90 KLT volunteers, who care about protecting important natural areas in the Kawarthas gave over 6,000 hours of their time to help care for and protect the land you love!
As we continue to grow, so does our need for volunteers to help with our many projects.
Check out our listing of events and we hope to see you out at our next 'Volunteer Work Party'
Photo Credits: Bretton Clark, The Land – Canadian Adventures
Posted May 26, 2017.