By Abigayle Lee, Community Engagement & Communications Assistant
It's been a busy, and, at times hot, field season this year. Kawartha Land Trust (KLT) staff, interns, and volunteers have been out on the land they love removing invasive plant species, planting native species, maintaining trails, conducting site visits, species inventories, and much more.
We caught up with three members of our field team to get insight into the 2023 field season at KLT.
Melanie Beaulieu, Canadian Conservation Corps. Intern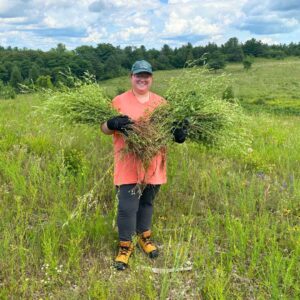 Melanie Beaulieu joined Kawartha Land Trust for the summer field season from Metepenagiag First Nation in New Brunswick through the Canadian Conservation Corps. program.
The CCC program connects youth ages 18 to 30 to field placements with conservation partners across Canada, along with providing leadership skills training.
"As a participant of the Canadian Conservation Corps., I have received an amazing opportunity to intern with Kawartha Land Trust," said Melanie.
"I am interning for three months during the summer. I was a bit nervous at first — from traveling to a new province to being immersed in a new environment and surrounded by new people — but it has proven to be a wonderful adventure."
Melanie shared that in her time with KLT thus far, she's learned how to identify local trees, grasses, shrubs, birds and their distinctive calls, invasive plant species, and species at risk.
"At KLT, my relationship with nature and the environment is growing and flourishing. I am learning how to take care of our Earth in a sustainable way," said Melanie. "I see KLT and its volunteers as a beautiful, close-knit family. They all support each other and work together as a team to better the environment and I feel very fortunate to be a part of it."
Favourite 2023 fieldwork moment to date: "Exploring the abundance of mushrooms in the Kawarthas and seeing Ghost Pipes, a native wildlflower, during their short blooming period was amazing."
Megan Greenwood, Land Stewardship Technician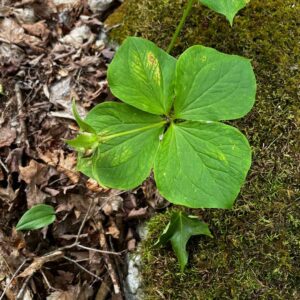 Whether it's in the field or in her spare time, Megan is passionate about species identification, and the 2023 fieldwork season has provided lots of opportunities to refine and further her identification skills.
"The 2023 KLT field season has been off to a great start," said Megan.
"I have had the opportunity to work with many amazing volunteers and have been able to build upon my land stewardship skills. Some highlights thus far include completing invasive [plant] species management, trail maintenance, and conducting property inventories."
Favourite 2023 fieldwork moment to date: "The best moment this summer was finding a four-leafed Trillium. Trilliums have always been my favourite flower and it reminded me how lucky I am to be able to work outdoors and experience all of the ecological gifts of the Kawarthas."
Jazz Barrick, Land Stewardship Technician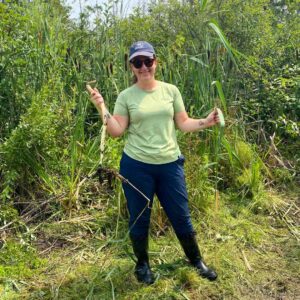 Jazz joined the KLT field team in mid-July and has hit the ground running, working on a number of projects, including removing invasive Phragmites from KLT's Emily Creek Wetland.
"I've really been enjoying this field season. Each day has been different and brought exciting new challenges and I feel like I'm learning so much," said Jazz.
"Working outdoors in the sun can be exhausting, but I usually finish my day feeling exhilarated. Having such a wonderful team to work with really helps! Whether I'm managing invasive [plant] species, or completing an inventory, I can look back on the day's work and really see all that I've accomplished, which is so rewarding."
***
We're grateful to the entire field team for all of their hard work this summer and for your support to protect the land you love!
Main article photo: Land Stewardship Technician Megan Greenwood identifying plant species at a property site visit.