Meet Our New Summer Students!
With the help of Canada Summer Jobs and Employment Planning and Counseling, Kawartha Land Trust was able to hire four new additions to our team this summer!
Patricia Wilson
Having volunteered closely with the organization for two years, Patricia Wilson is one of the new Stewardship Technicians at Kawartha Land Trust. Patricia came to Peterborough in 2010 to attend Trent University and earned a BSc in Biology and a specialization in Conservation Biology. She is now attending Fleming College in Lindsay taking Ecosystem Management. Patricia serves as a Director on the Peterborough County Stewardship Council and also works as the Agricultural Stewardship Coordinator at Farms at Work, a local agricultural non-profit organization dedicated to keeping farmland healthy and active and supports local farmers.
"I love everything to do with our natural world," she said. "I love how different species are connected and how everything seems to have a role and purpose in the environment." Patricia thinks the KLT is the perfect place for young people looking to take on a project, strengthen their skills or just get out in the field and get their hands dirty and encourages others to get involved, "From my experience, there is no shortage of work to be done at the KLT!"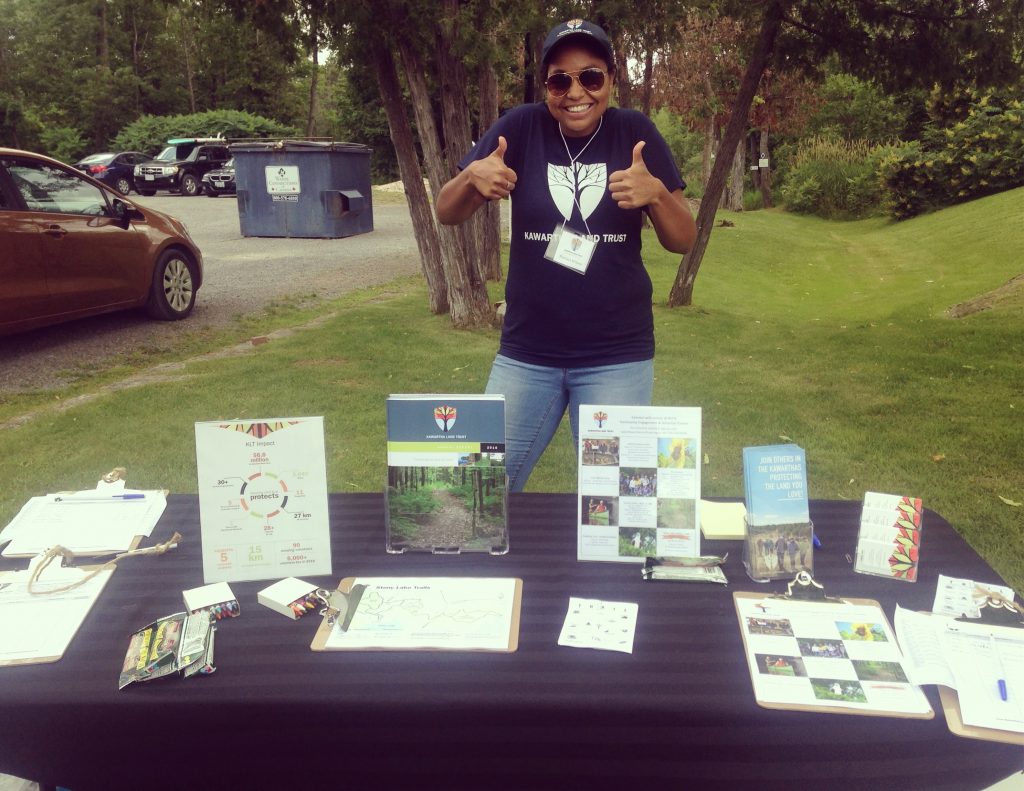 Keegan McKitterick
Keegan McKitterick is the Land Conservation Technician at Kawartha Land Trust. Keegan has previously worked for the Ministry of Natural Resources and Forestry where he became a certified Ontario Wetland Evaluator and was part of a core team responsible for evaluating wetlands throughout the GTA. He is also a certified Managed Forest Plan Approver which has given him the opportunity to work closely with landowners throughout the Kawarthas interested in protecting their woodlands into the future.
Recently, he has had the opportunity to work with Fleming College as an Instructor. Keegan says, "I am an ecologist by training and through my various work experiences I have developed a curiosity and love of plants. I am dedicated to continuing learning and developing and taking every opportunity to share my knowledge with the masses."
Jianna Nolan
Jianna Nolan graduated with a Bachelor of Fine Arts from the University of Ottawa and is currently studying Graphic Design at Algonquin College. Living in Ottawa, Jianna has worked as an arts and design Freelancer for the past few years and is currently working at the Algonquin College Student's Association as a junior graphic designer.
Having volunteered previously with KLT assisting with social media campaigns and design projects; she is very excited to join the team this summer as the organization's Marketing Assistant. She says, "I am very passionate about animals and nature as well as design and marketing; "I love that through KLT I can bring these two together to help protect such beautiful and important landscapes." Growing up, Jianna has spent many summers in Peterborough and has fond memories around the Kawartha Lake area, she looks forward to hiking and exploring many of the KLT properties and taking many pictures of her adventures to show everyone back at home.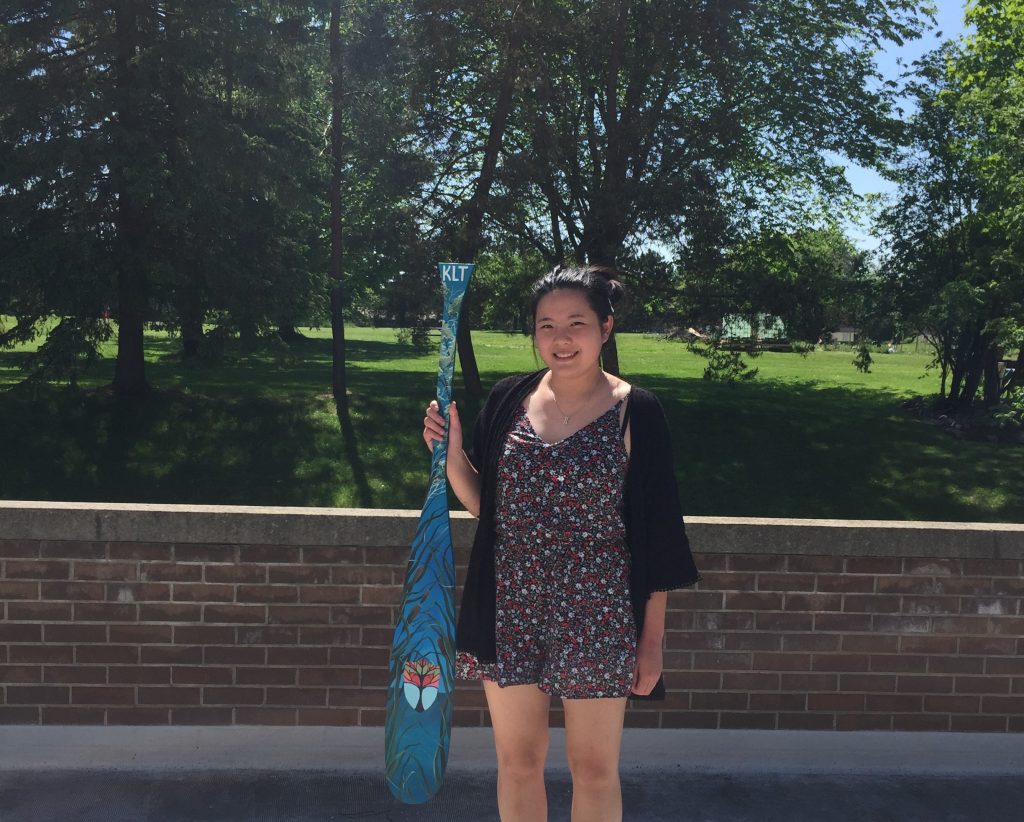 Vito Brancatella
Vito Brancatella is a Stewardship Technician at the Kawartha Land Trust. Vito has three years of educational experience studying geography and environmental management at the University of Waterloo and is currently a student in the University of Victoria's ecological restoration program. With hands-on experience with many of Ontario's reptile and amphibian species and having conducted activities such as radio telemetry for snapping turtles and blood sampling for Blanding's turtles, Vito offers a unique voice to the KLT team. Growing up between the southern Muskokas and northern Simcoe County; he has also developed a strong interest and experience pertaining to edible and medicinal plants and is a member of the Métis Nation of Ontario. Vito also has an affinity for all wildlife and enjoys activities such as tracking, backwoods camping, and wolf howls.
He says, "the land trust model is the most effective and sustainable method of protecting wildlife and habitat and I'm excited to help apply this model to protect the ecological integrity and natural beauty of the Kawarthas!" In the future Vito hopes to pursue a master's degree in conservation or road ecology.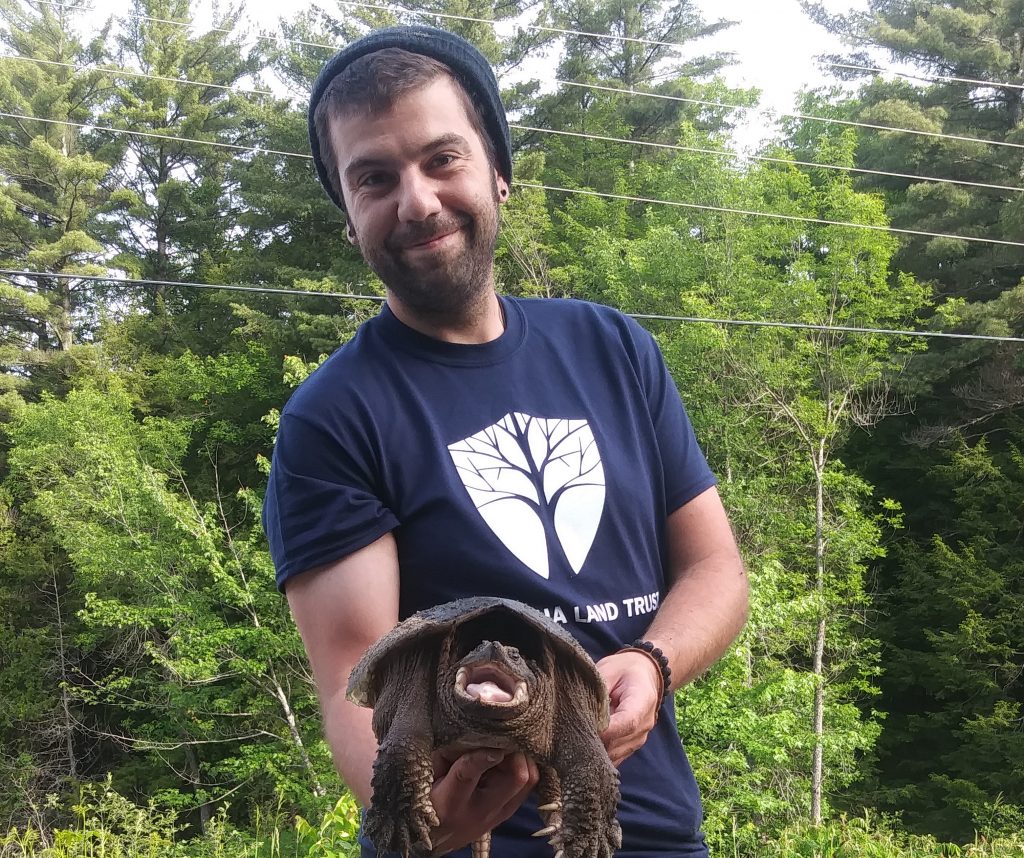 Posted June 12, 2018.