Staff

John Kintare, Executive Director
John Kintare joined Kawartha Land Trust as its Executive Director in 2019. John has over a decade of non-profit management experience from across the country and brings a broad spectrum of experiences from organizations and communities large and small. A permaculture enthusiast, he is dedicated to integrating elements of complex systems to provide benefit both to the ecosystem and the humans who rely on it.

John holds an Honours Degree in Psychology from the University of Waterloo and is a devoted lifelong learner. In November 2022, he was elected as an Ontario Land Trust Alliance (OLTA) Governor for a three-year term. John lives with his family in Bobcaygeon. jkintare@kawarthalandtrust.org

Thom Unrau, Director, Community Conservation
Thom Unrau is the Director of Community Conservation at Kawartha Land Trust. Thom has worked at KLT for five years and has played a key role in growing the impact of the Land Trust.
He has experience working with the Nature Conservancy of Canada in one of their priority natural areas in King City and has participated in a wide range of conservation work spanning from Northern Ontario to South Africa.
He believes that "land is the answer" to many of the biggest challenges we face and that we can rise to this opportunity by making conservation relevant and inclusive to all. tunrau@kawarthalandtrust.org

Anna Lee, Operations Manager
Anna Lee is the Operations Manager. She holds a BSc in Environmental Science and Biology from Trent University. Anna's early experiences involved working in the field of Outdoor Experiential Education in centres in British Columbia and Ontario. She has since pursued a number of interests and professional development courses in accessibility, fundraising, grant-writing, accounting and evaluation.
Most recently, Anna was the Project Manager for the Council for Persons with Disabilities, has volunteered with a number of organizations including Camp Kawartha and served on the Board of the New Canadian Center and the Youth Emergency Shelter. Anna lives with her family on the Indian River near Warsaw where she enjoys paddling, hiking and exploring natural spaces on a regular basis. alee@kawarthalandtrust.org

Hayden Wilson, Land Stewardship Coordinator
Hayden Wilson is the Land Stewardship Coordinator at Kawartha Land Trust. Hayden is an endlessly curious person with a passion for the conservation of our native species and spaces. Previously, he worked for the Algonquin Wildlife Research Station where he facilitated projects on the park's flora and fauna; however, Hayden has a particular fondness for herptiles, bats, fungi and rare plant communities.
He specializes in species at risk monitoring, outreach, land management and holds two diplomas from Fleming College's Environmental Technician and Environmental Technology programs.
Hayden spends as much time as possible immersing himself in the wetlands, forests and barrens of the Kawarthas via meandering canoe trips and long hikes. He strives to protect and enhance ecosystems to allow them to be more resilient against the effects of climate change. hwilson@kawarthalandtrust.org

Rachel Barrington, Partners in Conservation Coordinator
Rachel Barrington is the Partners in Conservation Coordinator. She holds a BSc in Environmental and Resource Science from Trent University and a post-graduate certificate in Environmental Management and Assessment from Algonquin College.
For the last decade, Rachel has worked for several environmental organizations including conservation authorities, environmental consulting firms and Ontario Parks. She is invested in protecting species at risk and balancing land use to support human needs while preserving ecological integrity.
Outside of work, Rachel can be found horseback riding, birding, gardening, or hiking with her dog and cat. rbarrington@kawarthalandtrust.org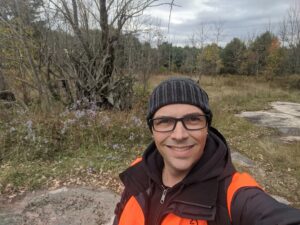 Jeff Park, Landowner Outreach Officer
Jeff is the Landowner Outreach Officer at Kawartha Land Trust. He holds an HBSc in Biology from Trent University, as well as both a Fish and Wildlife Technician Diploma and a Fish and Wildlife Technology Diploma from Fleming College.
Jeff has been an outdoorsman and naturalist his entire life, passionate about educating and sharing his appreciation for the environment. He began his career with the Resource Conservation, and Realty departments for Parks Canada, Trent-Severn Waterway, gaining experience in both conservation and
environmental assessments, as well as landowner permits, and public education. jpark@kawarthalandtrust.org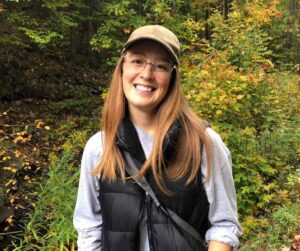 Sam Clapperton, Land Research Coordinator
Sam Clapperton is the Land Research Coordinator at Kawartha Land Trust. She holds an HBSc in Environmental and Resource Science from Trent University and an advanced diploma from Fleming College in the Ecosystem Management program.
Sam has experience working with conservation authorities, Parks Canada, and consulting firms to implement species at risk monitoring, ecosystem restoration and outreach. She is passionate about data-driven decision making in conservation and believes strongly in the power of GIS as a conservation tool.
Outside of work, Sam enjoys developing her naturalist skills. She has a strong interest in lichens, herptiles and birds and can be found paddling wetlands and hiking forests accompanied with her binoculars, field guides, and dog in tow. sclapperton@kawarthalandtrust.org

Alissa Paxton, Database & Office Administrator
Kawartha Land Trust's Database & Office Administrator, Alissa Paxton, comes to Kawartha Land Trust with over 15 years of experience in administration at local non-profits, most recently as a Development Associate at the YWCA Peterborough Haliburton.
Alissa loves hiking and gardening and is currently on a mission to learn more about wild edible plants and mushrooms. apaxton@kawarthalandtrust.org

Dani Couture, Communications Coordinator
Dani Couture (she/her) is the Communications Coordinator at Kawartha Land Trust. She has 18 years of communications, administrative and project management experience in the not-for-profit, arts, and higher education sectors. Most recently, Dani was the Advisor, Registrarial Communications, in the Office of the Registrar at the University of Toronto's Faculty of Applied Science & Engineering.
She is grateful to be able to support the important conservation work of KLT's dedicated staff and volunteers by sharing and telling their stories. dcouture@kawarthalandtrust.org
Sé Keohane, Financial Administrator
Sé is in the KLT office once per week. For financial inquiries please email info@kawarthalandtrust.org.