Building Your Path to Well-being Through Nature Connection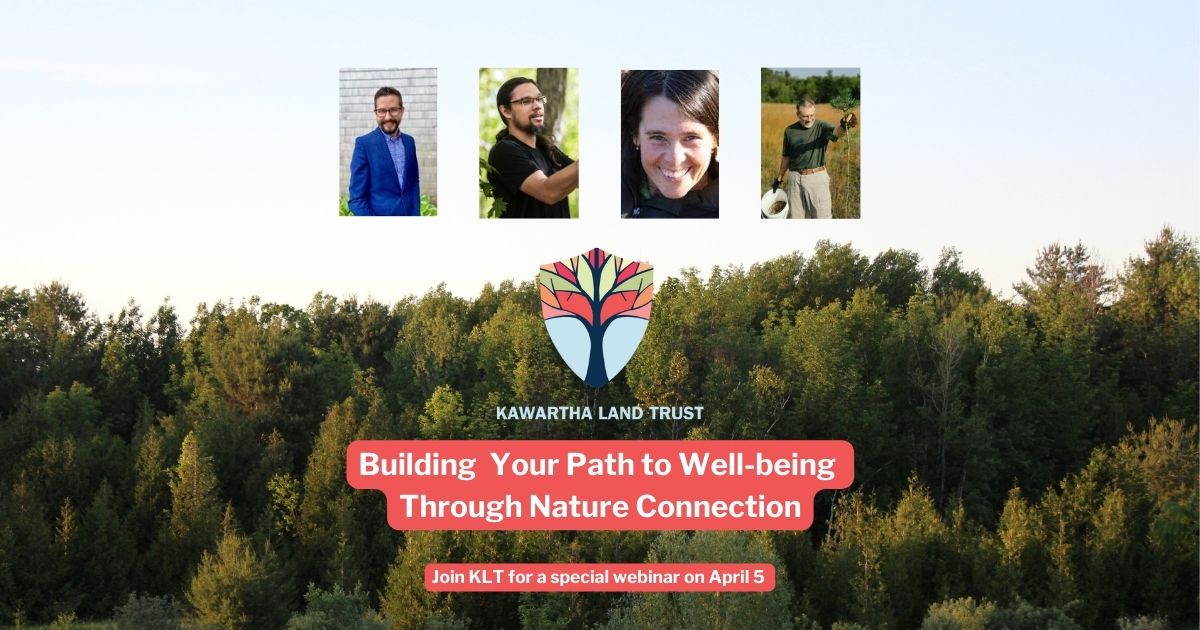 Event Date: 2023-04-05 07:00 pm
Did you know that adults and children who spend at least two hours in nature each week report better health and well-being?
Kawartha Land Trust kicks off its inaugural Passport to Nature program for 2023-24 with an inspiring webinar to help you learn about the benefits of getting outside and enjoying nature right outside your doorstep.
Date & time: April 5, 2023, from 7-8:30 p.m.
Panellists include Dr. Thomas Piggott, Peterborough Public Health's Medical Officer of Health, Joseph Pitawanakwat, Founder and Director of Creators Garden, and Nancy Thomson (aka "Nature Nancy"), Owner of Think Outside.
We will also share a preview of KLT's Passport to Nature program and how you can participate in a year of in-person and online events.
Register online to attend.
Panelist Bios
Dr. Thomas Piggott (pronouns he/him) started with Peterborough Public Health in December 2021. In his position as Medical Office of Health/CEO, Dr. Piggott brings experience working at various levels of public health in Canada and internationally. Prior to his role in Peterborough, Dr. Piggott worked as MOH and VP lead for Population/Rural & Remote Health in the northern region of Labrador and as a field doctor with Médicins Sans Frontières (Doctors Without Borders) in the Democratic Republic of the Congo. Dr. Piggott completed medical training, residency in Public Health and Preventive Medicine and his PhD in Health Research Methods at McMaster University. He is involved in research, teaching, clinical work and a father of young children.
Joseph Pitawanakwat is Ojibway from Wiikwemkoong, married with one daughter. The founder and director of Creators Garden, an Indigenous outdoor, and now online, education-based business, focused on plant identification, beyond-sustainable harvesting, and teaching everyone of their linguistic, historical, cultural, edible, ecological, and medicinal significance through experiences. Joe's lectures and intensive programming are easily adaptable to make appropriate and successfully delivered to a variety of organizations, including over 150 First Nations communities and hundreds of institutions throughout Anishinaabe territory and beyond. He has learned from hundreds of traditional knowledge holders and uniquely blends this knowledge with and reinforces it with an array of Western sciences.
Nancy Thomson, otherwise known as "Nature Nancy," is an engaging outdoor educator that has been teaching in the outdoor classroom for the last 25 years. Her sense of fun and genuine connection with the children creates a positive learning atmosphere. She values inquiry and exploration of our natural world through experiential learning and hands on activities. As a certified teacher, Nancy has had incredible teaching opportunities in the past which have included outdoor education at Fleming College, teaching at several different outdoor centres,
directing summer camps and teaching at Kawartha Pine Ridge District School Board, and with ALIVE Outdoors. She holds a Bachelor of Education and also a Bachelor of Physical and Health Education with a minor in Biology, both from Queen's University. Nancy's vast programming experience coupled with her sense of fun and exploration allows children to connect with their natural world and each other in a playful yet meaningful way.
David Marshall is a volunteer with Kawartha Land Trust (KLT) and Lead Steward for KLT's Dance Nature Sanctuary. David is an authorized meditation instructor with over twenty years of experience teaching in numerous meditation centres, colleges, prisons, and other venues to students, social workers, church congregations, and the general public. An avid backpacker and participant in wilderness field studies in his earlier days, he has many years of experience as an environmental activist in the areas of wilderness preservation, sustainable forestry, and wildlife management.