Protecting Our Land
Land Stewardship
The goal of Land Stewardship is to care for the lands entrusted to us.
The Land Stewardship Team advises on stewardship priorities and best practices. They conduct inventories, protect species at risk, manage invasive species, and develop management plans, policies and guidelines on stewardship activities for KLT properties.
The Land Stewardship Team is comprised mainly of volunteers who have a range of expertise including tall grass prairie restoration, invasive species management, biological inventories, and natural areas ecology and is supported by KLT staff.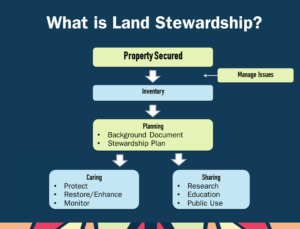 2016 Land Stewardship Highlights
Conducting Inventories:
Plants, Animals, Geology & Cultural Use
o Big (Boyd/Chiminis) Island
o Stony Lake Trails
Partners/Contributors
o Trent University
o Fleming College
o Peterborough Field Naturalists (PFN)
o Many skilled volunteers
Protecting Species at Risk:
Ingleton-Wells
o Butternut enclosures
Dance Nature Sanctuary
o Monarch butterfly collection, tag & release
Invasive Species Management:
Dance Nature Sanctuary
o European Buckthorn
o Dog-strangling vine
McKim-Garsonnin (Ballyduff Trails)
o Dog-strangling vine
Ingleton-Wells
o Garlic mustard
o Giant hogweed
Management Planning:
Big (Boyd/Chiminis) Island
o Ecological Land Classification
o Background Data Collection
o Committee Meetings
Dance Nature Sanctuary
o Vegetation Management Plan
Public Awareness:
Big (Boyd/Chiminis) Island
o Signage
o Campsite and fire pit removal/cleanup
o Boater outreach
Trail Development and Maintenance:
Big (Boyd/Chiminis) Island
o Inventory of historic trail networks
o Development and signing of new trail
Stony Lake Trails
o Ingleton-Wells, Viamede Resort & Private Lands (9km total)
o Planning, layout, marking, grooming & benches
Special Events:
• Salamander Hike and Dusk Walk with Peterborough Field Naturalists
• Tall Grass Prairie Workshop at Ballyduff Trails
• Woodlot Management Workshop with Peterborough County Stewardship